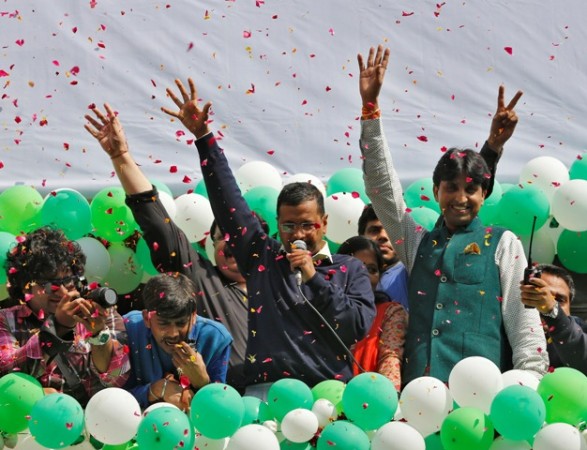 One of India's most interesting and intense political battles ended on Tuesday bringing Aam Aadmi Party to power in Delhi twice in the last two years. Winning the elections with extreme majority in 2015 assembly polls, AAP chief Arvind Kejriwal swept the 'Modi wave' away from the national capital.
The results were even more astonishing since BJP, which had trumped every other party in the 2014 general elections, was reduced to minority in Delhi assembly, while Congress was no where around as it bowed out with zero seats.
A major blow to BJP was the party's chief ministerial aspirant Kiran Bedi losing from her constituency Krishna Nagar. BJP had apparently pinned its hopes on Bedi, who they thought will bring victory for the party.
Here's a list of winners from AAP as well as BJP, which won only 3 out the 70 assembly seats.
| | | |
| --- | --- | --- |
| Parties | Constituencies | Candidates |
| BJP | Rohini | Vijender Gupta |
| BJP | Vishwas Nagar | Om Prakash Sharma |
| BJP | Mustafabad | Jagdish Pradhan |
| AAP | Najafgarh | Kailash Gahlot |
| AAP | Malviya Nagar | Somnath Bharti |
| AAP | Kalkaji | Avtar Singh Kalkaji |
| AAP | Babarpur | Gopal Rai |
| AAP | Nerela | Sharad Kumar |
| AAP | Kirari | Rituraj Govind |
| AAP | Wazirpur | Rajesh Gupta |
| AAP | Moti Nagar | Shiv Charan Goel |
| AAP | Dwarka | Adarsh Shastri |
| AAP | Jangpura | Praveen Kumar |
| AAP | Sangam Vihar | Dinesh Mohaniya |
| AAP | Patparganj | Manish Sisodia |
| AAP | Seelam Pur | MohdIshraque |
| AAP | Mundka | Sukhvir Singh |
| AAP | Tri Nagar | Jitender Singh Tomar |
| AAP | Patel Nagar | Hazari Lal Chauhan |
| AAP | Uttam Nagar | Naresh Balyan |
| AAP | New Delhi | Arvind Kejriwal |
| AAP | Ambedkar Nagar | Ajay Dutt |
| AAP | Kondli | Manoj Kumar |
| AAP | Rohtas Nagar | Sarita Singh |
| AAP | Burari | Sanjeev Jha |
| AAP | Sultanpur Majra | Sandeep Kumar |
| AAP | Model Town | Akhilesh Pati Tripathi |
| AAP | Madipur | Girish Soni |
| AAP | Matiala | Gulab Singh |
| AAP | Kasturba Nagar | Madan Lal |
| AAP | Greater Kailash | Saurabh Bharadwaj |
| AAP | Laxmi Nagar | Nitin Tyagi |
| AAP | Ghonda | Shri Dutt Sharma |
| AAP | Chandni Chowk | Alka Lamba |
| AAP | Hari Nagar | Jagdeep Singh |
| AAP | Bijwasan | Col Devinder Sehrawat |
| AAP | R.K. Puram | Parmila Tokas |
| AAP | Tughlakabad | Sahi Ram |
| AAP | Krishna Nagar | S K BaggaAdvocate |
| AAP | Timarpur | Pankaj Pushkar |
| AAP | Nangloi Jat | Raghuvinder Shokeen |
| AAP | Sadar Bazar | Som Dutt |
| AAP | Bawana | Ved Parkash |
| AAP | Shakur Basti | Satyendar Jain |
| AAP | Karol Bagh | Vishesh Ravi |
| AAP | Vikaspuri | Mahinder Yadav |
| AAP | Rajinder Nagar | Vijender Garg Vijay |
| AAP | Deoli | Prakash |
| AAP | Trilokpuri | Raju Dhingan |
| AAP | Seemapuri | Rajendra Pal Gautam |
| AAP | Tilak Nagar | Jarnail Singh |
| AAP | Palam | Bhavna Gaur |
| AAP | Mehrauli | Naresh Yadav |
| AAP | Badarpur | Narayan Dutt Sharma |
| AAP | Gandhi Nagar | Anil Kumar Bajpai |
| AAP | Rithala | Mohinder Goyal |
| AAP | Shalimar Bagh | Bandana Kumari |
| AAP | Ballimaran | Imran Hussain |
| AAP | Janakpuri | Rajesh Rishi |
| AAP | Delhi Cantt | Surender Singh |
| AAP | Chhatarpur | Kartar Singh Tanwar |
| AAP | Okhla | Amanatullah Khan |
| AAP | Shahdara | Ram Niwas Goel |
| AAP | Karawal Nagar | Kapil Mishra |
| AAP | Adarsh Nagar | Pawan Kumar Sharma |
| AAP | Gokalpur | Fateh Singh |
| AAP | Matia Mahal | Asim Ahmed Khan |
| AAP | Mangol Puri | Rakhi Bidlan |
| AAP | Badli | Ajesh Yadav |
| AAP | Rajouri Garden | Jarnail Singh |