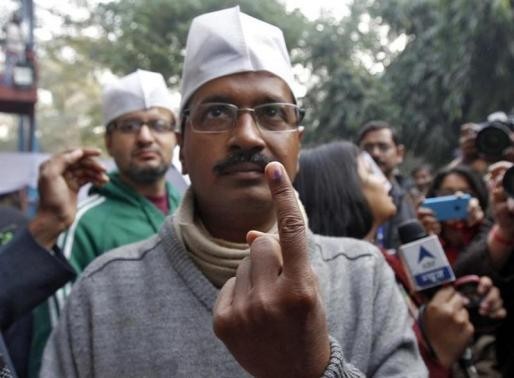 Long queues were seen outside various pooling booths as voting steadily gained pace in Delhi after a slow start in the morning. Until 9 am, the voter turnout was only 4 percent, while it warmed up later with a turnout of 55 percent by 4 pm, the Election Commission of India has announced.
Among the early voters to be seen in the polling stations were popular faces like Delhi chief minister Sheila Dikshit, Congress vice president Rahul Gandhi, Congress chief Sonia Gandhi and Vice President Hamid Ansari, the Indo-Asian News Service has reported.
Nearly 12 million or 1.2 crore people from Delhi are eligible to vote for the election. Voters were seen in large numbers in many areas, with some even arriving on crutches, NDTV reported.
While no untoward incident of any kind has been reported so far, news of some 7,000 voters from the New Delhi constituency at the Kali Bandhi Marg booth who were "not allowed" to vote, has been doing its rounds in various news outlets and social media. The voters have complained that their names are not on the list.
"On one hand, they tell us go out and vote and on the other, they delete names from our list," one voter told CNN IBN.
Mr Arvind Kejriwal, the Aam Aadmi Party Chief who made a great impact in the election campaigns by appearing as the lone man fighting against corruption, reportedly advised people to "please vote, then eat", as he came to exercise his franchise earlier in the day.