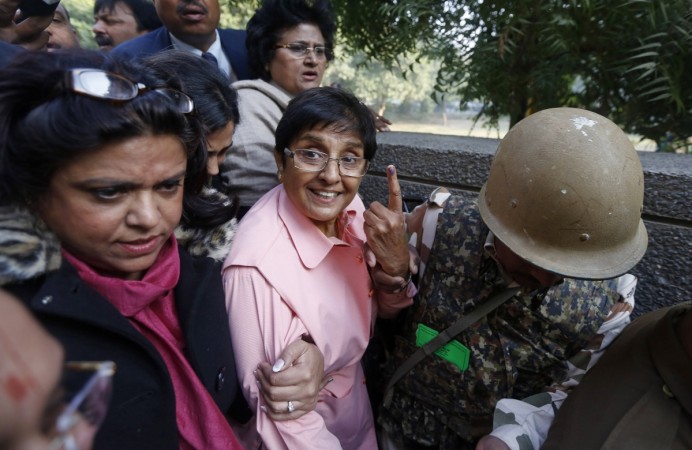 7:35 pm: 67 percent voter turnout recorded; Chanakya Exit Poll predicts 48 seats for AAP, 22 for BJP, and 0 for Congress.
7:15 pm: Kiran Bedi claims BJP still in the fight.
7 pm: According to News Nation Exit Poll, AAP will get 47% of the votes.
6:45 pm: AAP ahead of BJP by 4 seats, predicted to get 31-39 seats to the saffron party's 27-35 seats. Congress tipped to get 2-4 seats.
6 pm: Nearly 63% polling, says Election Commission.
5 pm: 55.60 percent turnout recorded till 4 pm.
4:15 pm: Priyanka Gandhi casts her vote.
4:10 pm: Chief Election Commissioner Harishankar Brahma predicts 70 percent polling.
4 pm: Over 50 percent polling recorded at 3 pm.
3:30 pm: Reacting to allegations of slow polling by AAP, the EC says more booths could be set up if the reports are true, adding that nothing has come to light as of now.
The Election Commission also said that no voter should spend more than 45 minutes to caste his/her vote, and that polling would continue till all the voters had voted.
3 pm: 40 percent turnout till 2 pm.
2:50 pm: AAP complains to the Election Commission about Kiran Bedi asking for votes on polling day.
2: 30 pm: Kiran Bedi alleges AAP is bribing people from Krishnagar, the constituency from where she is contesting the Delhi elections. Says people are being offered Rs. 300 per vote.
2:15 pm: AAP alleges slow polling, says people returning without voting and that the voters are taking about two hours to vote. The party says that one voter is being allowed instead of three, and that the polling staff members are taking breaks.
1:50 pm: Amit Shah calls for party meet at 7 pm.
1:45 pm: 34 percent polling recorded till 1 pm.
1:40 pm: AAP refutes Nupur Sharma's misbehaviour charges.
1:10 pm: 24 percent voter turnout till 12 pm.
1 pm: BJP candidate Nupur Sharma alleges misbehaviour by an AAP party member. She claims her sister was the victim. "How dare they touch my sister, will approach the EC," Sharma said.
12:50 pm: Arvind Kejriwal claims victory in his latest tweet, says BJP workers have given up.
12:40 pm: BJP chief Amit Shah reaches the party office to analyse the polling rate.
12:20 pm: Rahul Gandhi refuses to speak to the media.
12:10 pm: People want to an end to inflation, will vote accordingly: Kejriwal.

11:53 am: 19 percent polling recorded till 11 am.
11:49 am: Sonia Gandhi, Shiela Dikshit cast their votes.
11:45 am: People were happy with AAP's 49-day governance, claims party.
11 am: 9.25 percent voter turnout in Delhi till 10 am.
10:45 am: Voters bribed last night, cash and liquour distributed, says Kejriwal.
10:40 am: Bedi meets voters in slum dwellings.
10:33 am: Bedi accuses AAP of issuing threats, says will complain to EC.
10:30 am: Upper middle and middle class people are lending their support to us, says AAP.
10:20 am: Congress vice-president Rahul Gandhi casts his vote in Aurangzeb Lane.
10: 15 am: Ramps make voting easier for Delhi's disabled voters.
10:10 am: Kiran Bedi to visit all polling booths in Delhi.
10:05 am: 5.4 percent voter turnout at 9 am.
10 am: Kejriwal casts his vote, says truth will be the winner.
9:55 am: Whatever people want will happen, says Sonia Gandhi.
9: 50 am: Will be a wave election, expect more than 47 seats: Yogendra Yadav.
9:45 am: BJP is prepared, not nervous: Party spokesperson Sambit Patra.
9:40 am: President Pranab Mukherjee casts his vote.
9:35 am: Call upon my young friends to vote in large numbers, tweets Modi.
9:33 am: Congress President Sonia Gandhi arrives at Nirman Bhawan polling booth to cast her vote.
9:30 am: Congress CM Candidate Ajay Maken casts his vote.
9:23 am: We will neither take nor extend any support to AAP for Government formation: Ajay Maken.
9:22 am: Delhi must vote for such a party which can resolve its problems & not just hold dharnas or has infighting in the party: Ajay Maken, Congress.
9:10 am: Ashish Khetan, AAP: Today BJP has also published front page ads which would cost Rs 100 crore approximately; where does BJP get all this money from?
9:08 am: Dr. Harshvardhan and his mother cast their votes.
8:55 am: Sharmishtha Mukherjee, Congress candidate from GK, casts her vote.
8:53 am: By casting vote you will get two leaders, PM Narendra Modi and me: Kiran Bedi.
8:44 am: PM se vikaas milega, mujhse suraksha milegi, mahilao ki suraksha desh ki suraksha, aao milke vikas ki Delhi banaye: Kiran Bedi.
8:43 am: Vice-President Hamid Ansari casts his vote.
8:37 am: BJP's CM candidate Kiran Bedi casts her vote.
8:30 am: Delhi is going to vote for development, appeal to voters to come out and vote: Kiran Bedi, BJP CM candidate.
8:20 am: AAP's Ashish Khetan casts his vote.
8:18 am: JP's Ram Madhav casts his vote.
8:15 am: Kiran Bedi urges the masses to vote.
Kiran Bedi, BJP CM candidate: It is a historic day, people will decide what kind of Delhi they want, appeal all to vote, ANI tweeted.
8:12 am: Saurabh Bharadwaj, AAP candidate from GK, casts his vote.
8:01 am: Voting begins.
7:55 am: People have queued outside polling booths to cast their votes.
Bharatiya Janata Party lawmaker and contestant from Delhi's Gonda constituency, Sahib Singh Chauhan's car was attacked just minutes before the voting started for one of the biggest political battles in the 70-seat assembly on Saturday.
BJP MLA from Ghonda (Delhi) Sahib Singh Chauhan's car attacked, Chauhan is safe, ANI tweeted.
Security at several polling booths, including BJP CM aspirant Kiran Bedi's Krishna Nagar constituency and Nirman Bhawan polling booth, has been tightened as voting is set to begin at 8 am.
(Source: ANI Tweets)