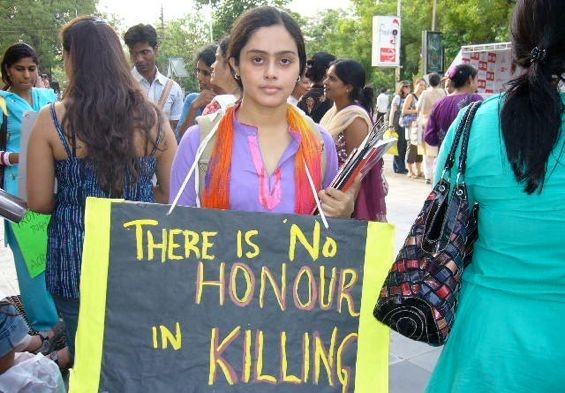 A Delhi court on Friday announced death sentence to five members of a family for brutally killing a young couple two years ago.
Additional Sessions Court Judge Ramesh Kumar Singhal announced the death sentence to the girl's family who allegedly tortured and electrocuted their 19-year-old daughter Asha and her 20-year-old lover Yogesh in June 2010 in a so-called honour killing.
The five family members include Asha's parents, uncle, aunt and cousin who were arrested a day after they murdered their daughter and her lover at Swaroop Nagar, Delhi.
Ramesh Kumar awarded the death sentence saying that the "savage nature" of the crime has shocked the judicial conscience.
"Keeping in view the medical evidence and the state in which the bodies of the deceased person were found, it is obvious that most heinous type of murders were committed in the present case. Both the deceased were electrocuted by the convict. The offence was not only inhuman and barbaric but the savage nature of the crime has shocked the judicial conscience," Judge Ramesh Kumar said, according to PTI.
"In the case in hand, cold blooded, brutal murders through electrocution have been committed even as there was no provocation on behalf of the victims, making it a rarest of rare case, which calls for no punishment other than capital punishment. Such cruel and barbaric acts cannot be allowed to take place in developed metropolitan cities," he added.
The autopsy report of Asha and Yogesh revealed that they were tied with ropes, beaten and electrocuted, according to reports.
Yogesh, an orphan, was taxi driver by profession and was living with his uncle Yograj, aunt Debashri and sister Renu Jatav. Asha, a daughter of a vegetable vendor, was a school dropout. They both resided at Gokulpuri area, Delhi.
Yogesh wanted to marry Asha but the girl's family were against the couple's plans because the boy belonged to a lower caste.
"All the five persons were handed the death penalty because it was proved beyond doubt that they tortured and killed the young boy and girl just because they were in love and wanted to marry. The murders were brutal and deliberate," Public prosecutor P.K. Verma told AFP.
The accused family member can appeal against the Delhi court's decision in a higher court.
Last year, Supreme Court said that people found guilty of honour killing should be given death penalty.
"It is time to stamp out these barbaric, feudal practices which are a slur on our nation," the court said.