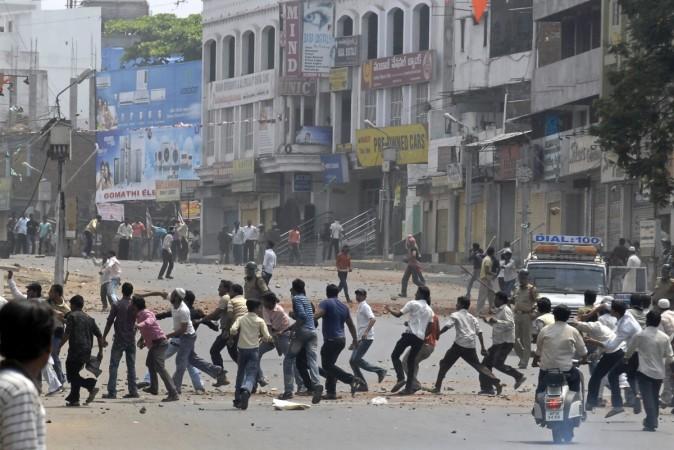 The Delhi police woke up to the communal tensions in eastern parts of the Indian capital on Saturday and imposed curfew after failing to contain the situation.
The violence that broke out between Hindu and Muslim communities on Friday evening and continued till 1pm on Saturday, injuring at least 13 people, of which three are said to be in critical condition.
On the night of Diwali, the areas in East Delhi witnessed communal tensions and the situation was brought under control within an hour, according to The Indian Express report.
However, again on Friday evening, the mobs from both the communities indulged in violent attacks, which worsened on Saturday morning when mobs reportedly started pelting stones at each other. They also used acid bottles and bricks to attack each other.
"They threw stones, bottles and anything they could lay their hands on," Hindustan Times quoted a local resident as saying.
Later in the day, the mobs were witnessed heading back to the streets with hockey sticks, cricket bats, bricks and knives, despite tight security. They once again indulged in stone pelting, however, Rapid Action Force and Central Reserve Police Force personnel contained the situation by evening, after which prohibitory orders under CrPC Section 144 was imposed
The reason behind the incident remains uncertain as different versions were reported. While some alleged that a Muslim group vandalised a "mata ki chowki (a temporary religious structure set up by Hindus to house a deity)," some are of the view that the situation among the two communities in that area was tensed since Bakrid.
Earlier, Home Minister Rajnath Singh had issued alerts in the wake of possible communal tensions during the festival period and asked the police to keep a watch on communally sensitive areas.
"Police was asked to identify communally sensitive areas and keep a special vigil in there. We have even suggested the police to keep a watch on social media since it has been seen that on many occasions rumours are spread through social networking sites," HT quoted an official, who did not want to be named.