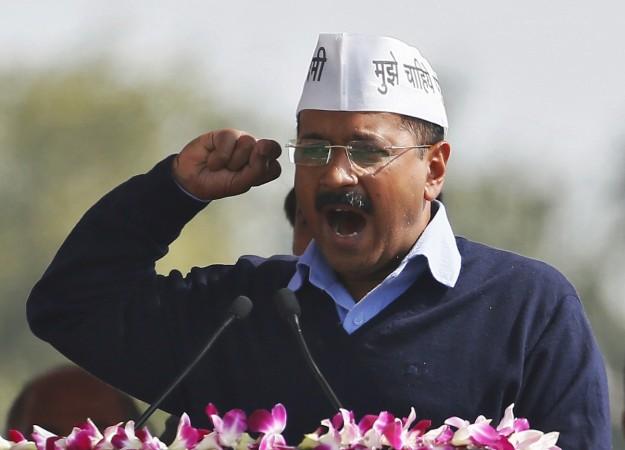 Two-time Delhi Chief Minister and Aam Aadmi Party Convenor Arvind Kejriwal was featured by Fortune magazine in its list of 50 World's Greatest Leaders. The 47-year-old is the only Indian face on the list topped by Amazon CEO Jeff Bezos.
The magazine, which described Kejriwal as "the New Delhi government official risking his career to fight pollution," has placed him at rank 42, before Canada Prime Minister Justin Trudeau and head of Climate Change Policy, Uruguay, Ramon Mendez. Kejriwal's odd-even scheme, launched in the first week of January 2016, received acclaim from the business magazine.
"When Kejriwal unveiled a blueprint to tackle the smog in New Delhi—called the world's most polluted city by the World Health Organization—many were skeptical...The uplifting result of the pilot this January: Roads were less clogged, hourly particulate air pollution concentrations dropped by 13 percent, and citizens could breathe deep, [sic]" Fortune said.
The odd-even scheme had mandated Delhi residents to use cars with odd-numbered plates on odd-numbered dates, and those with even-numbered plates on even dates, in a bid to reduce air pollution levels in India's capital.
The list, which features almost equal number of men and women, also has two American-Indians — South Carolina Governor Nikki Haley and lawyer and founder of Girls Who Code Reshma Saujani. However, it did not feature Indian Prime Minister Narendra Modi.
Bezos, Apple chief Tim Cook and Pope Francis, who made it to the third annual list by the magazine, have been featured earlier.
The list, featuring political leaders, philanthropists and cultural icons, had German Chancellor Angela Merkel in second position and Myanmar leader Aung San Suu Kyi as third.
"The leaders you'll meet here, known and new, will lift your mood and upgrade your assessment of the world's future," the Fortune magazine said.