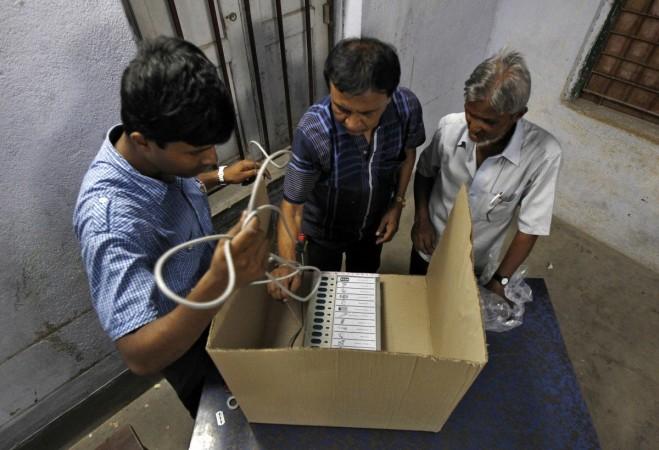 Around 1.6 lakh voters were eligible to decide the fate of candidates as they voted in the Rajouri Garden constituency bypolls in Delhi on Sunday. However, the bypolls recorded a poor voter turnout of 35 percent across the 166 polling stations in the constituency till 3 pm.
The Rajouri Garden assembly bypolls came weeks before the Delhi civic polls, which is an important one for the Aam Aadmi Party (AAP). The civic bodies in the national capital are currently under the BJP. Voting went through peacefully in the constituency with no clashes having been reported in the area. No incidents of EVM tampering or malfunction were reported.
The bypolls were necessitated after the seat fell vacant this year with the resignation of AAP's Jarnail Singh, who quit to contest the Punjab Assembly polls in March against Shiromani Akali Dal's (SAD) leader Parkash Singh Badal.
The AAP fielded a new face for the bypolls. Harjeet Singh from the Arvind Kejriwal-led party contested against Congress' Meenakshi Chandela and the BJP's Manjinder Singh, who represented the BJP-SAD coalition. Chandela from the Congress belongs to a politically influential family in the area.
EVMs and VVPAT machines were used in polling in the constituency much to the dismay of Delhi Chief Minister and AAP Convenor Arvind Kejriwal, who had raised questions on the reliability of the EVMs used during elections. The results of the bypolls will be declared on April 13.
The Congress has been in power in Rajouri Garden since 1993 except in the last couple of elections when the BJP-SAD coalition won in 2013 and the AAP won in 2015. The BJP and the Congress seem confident of winning in the bypolls while AAP has not commented on the bypolls at all.
"There is clear competition between the Congress and BJP. The AAP is nowhere in the picture," Congress leader Ajay Maken said when he came to cast his vote. "The AAP has reached a point of no revival. People slowly feel that development took place for them only when the Congress was in power. I'm sure that it will be ghar waapsi for the Congress party," Candela, the Congress candidate, said.
"This is the semi-final to the upcoming MCD elections. Whoever wins this seat will win the MCD elections and I am confident that victory will be ours," Manjinder Singh Sirsa, the SAD-BJP candidate, told reporters.
The bypolls are important for all the three parties. The BJP would want to have more presence in the Delhi Assembly considering that they have only three seats currently. The AAP needs to clear the controversies surrounding the party even as the Congress looks to open its account.