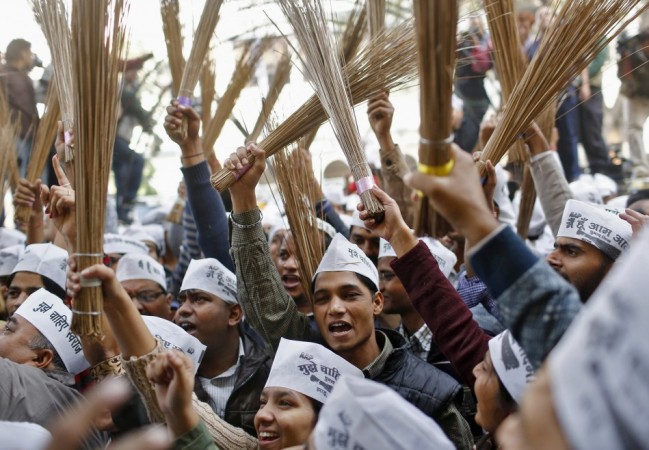 The Bharatiya Janata Party and the Congress party, otherwise bitter rivals, are now on the same side of social media drubbing after their debacle in the Delhi elections, which have been swept away by the Aam Aadmi Party.
Twitter is abuzz with jokes, memes and comments aimed at the two oldest parties in the country, which have conceded defeat to the three-year-old AAP, which has won a staggering 53% share of the votes as per results seen so far.
From taking potshots at Kiran Bedi and Shazia Ilmi, who switched sides from AAP to BJP, to mocking Congress over its 'zero figure' performance, Twitterati had a field day as the election results unfolded.
Here are some of the funny, sarcastic and downright hurtful comments that filled Twitter on Tuesday:
MNS to Congress - "We got 1 vote you got zero ! We got 1 vote you got zero ! Na na na na na"

— Atul Khatri (@one_by_two) February 10, 2015
If it was possible, Congress would have won 'square root of minus one' seats this time. — Varun (@varungrover) February 10, 2015
Congress at zero. Now this is what you call zero loss.

— Chetan Bhagat (@chetan_bhagat) February 10, 2015
AAP knockout of Bharatiya Janta Party and Congress. #AAPRoast @AamAadmiParty — Anvay Meshram (@droguedezigner) February 10, 2015
Ajay Maken reminds me of myself. Attempting 60 out of 100 in maths, lying to my parents I did 100 "Wait till results come out". — Greatbong (@greatbong) February 10, 2015
Hahahahahaha! Shazia Ilmi jumped from a life-boat to a sinking ship. — Varun (@varungrover) February 10, 2015
At 7 expected seats, the entire Delhi BJP MLAs can fit in one Innova.

— Chetan Bhagat (@chetan_bhagat) February 10, 2015
Previous tweet corrected. At 3 expected seats, the entire Delhi BJP can fit in an auto, — Chetan Bhagat (@chetan_bhagat) February 10, 2015
Congress Vanished !! With the speed of Jupiter's escape velocity.

— ASHISH JHA (@MECHASHISH) February 10, 2015
Swept away, indeed. Mint photog from outside the Congress office this morning. #MintElections pic.twitter.com/heoX7LwlC5

— Venkat Ananth (@venkatananth) February 10, 2015
This photo has been framed and put in BJP office in Delhi : pic.twitter.com/A0iEg0KOhC — $ir $ri $ri Magal (@jhunjhunwala) February 10, 2015