The Supreme Court is set to hear a Public Interest Litigation (PIL) filed by lawyer RK Kapoor seeking the top court's intervention in curbing stubble burning and dust arising from construction, which is contributing to New Delhi's rising levels of air pollution. The PIL also seeks an effective implementation of the odd-even car rationing scheme.
Reports of the apex court's intervention came shortly after the National Green Tribunal (NGT) said that the Delhi government has not yet filed a review petition on the odd-even scheme, calling the government's declaration of reviewing the decision a "media stunt."
The New Delhi government had said that it would take a decision on the odd-even scheme on Monday as the national capital continues to struggle with severe levels of toxic air. After the government put the odd-even traffic rationing system on hold on Saturday, it said that it would approach the NGT and urge that women drivers and two-wheelers to be exempted from the rule.
NGT on #Delhi Smog and #OddEven: Delhi Government has still not moved modification application on NGT on the issue of #OddEven. NGT observes "govt approaching us or was its minister's statement for press only?"

— ANI (@ANI) November 13, 2017
The NGT gave a green signal to the scheme on Saturday but added that only emergency vehicles will be exempted from the rule, in an attempt to curb the rising levels of pollution in the capital. The NGT had said that it will allow the odd-even scheme to be implemented, however there will be no exemptions for women, two-wheelers, and government vehicles.
The Delhi government was to implement the odd-even scheme from November 13 to November 17.
Delhi's air quality was recorded "severe" on Monday, with particulate matter (PM) readings at 645 microgrammes per cubic metre and PM2.5 at 416 microgrammes per cubic metre, according to Safar (System of Air Quality and Weather Forecasting And Research). The forecast for Tuesday shows that the air quality will continue to remain severe, however there could be a slight dip in PM10 and PM2.5 particle readings.
Delhi's level of air pollutants were recorded as severe for the fifth successive day.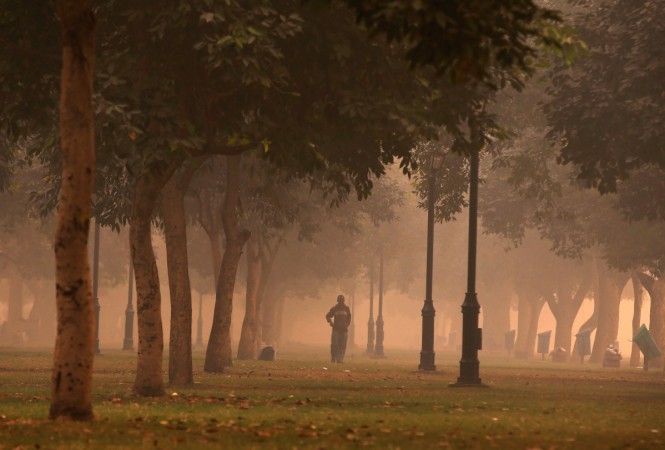 The NGT, in its order on Tuesday, had said that the odd-even scheme should automatically come into effect in the capital if the PM2.5 and PM10, particles in the air with a diameter less than 2.5 and 10mm respectively, go above the 300 and 500 units for 48 hours.
The NGT has also asked the Delhi government to reconsider its four-times increase in the parking fee. The Kejriwal government has increased the parking fee in an effort to curb rising level of pollutants from vehicles.