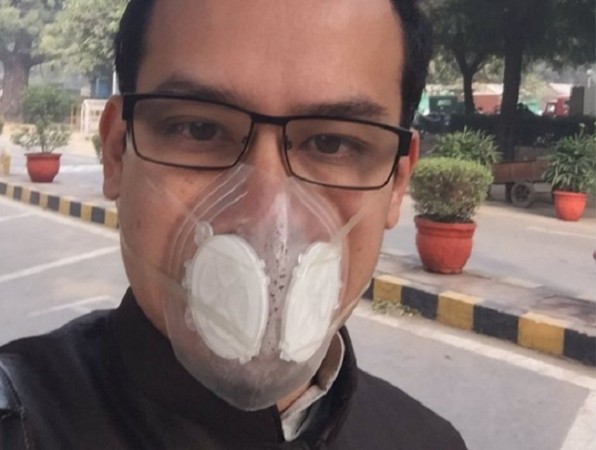 In an innovative protest to highlight the deterioration of air quality in the national capital, Congress MP Gaurav Gogoi on Monday came to Parliament wearing a mask, said reports.
The parliamentarian, who is the son of Assam chief minister Tarun Gogoi, said that he decided to walk to work on Monday and because of the increased pollution he was forced to wear the mask.
"Today, I thought I will walk to Parliament, but after reading reports in the newspaper that PM (particulate matter) level has increased drastically, I came wearing the mask," PTI quoted Gogoi as saying.
The 33-year-old also tweeted saying "pollution in Delhi is intolerable today. Only way to walk to work is by wearing a mask."
The lawmaker from Assam's Kaliabor constituency said he had raised the issue of air pollution during the last session of the Parliament.
"We had asked the central minister last year about the air quality index. And that time we had said that only measuring the air quality won't be enough. We have to make the people aware so that they can decide on how much time they want to spend outside and inside," he said.
Last week, the Delhi High Court had observed that people are living "in a gas chamber" and asked the Central and state governments to take necessary measures.
Recently, the Delhi government had declared that private vehicles with odd and even number plates will be allowed on alternate days from next year.
Check out the photo below:
Pollution in Delhi is intolerable today. Only way to walk to work is by wearing a mask.#righttobreathe pic.twitter.com/aUBMwZvXGx

— Gaurav Gogoi (@GauravGogoiAsm) December 7, 2015