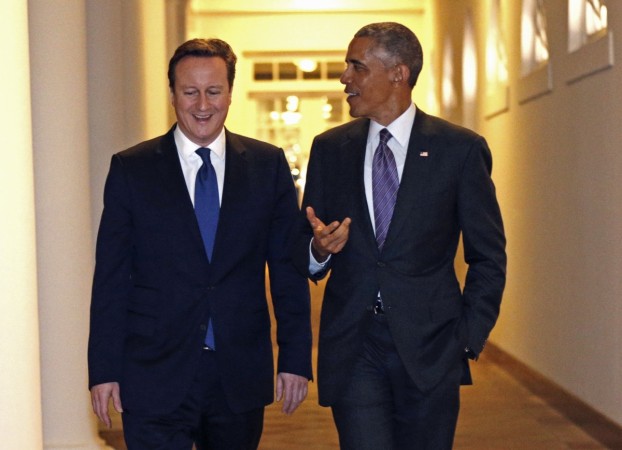 To test their resilience against global cyber attacks, the United Kingdom and the United States have agreed to attack each other as part of a staged "cyber war games" programme.
British Prime Minister David Cameron and U.S. President Barack Obama have agreed to allow their intelligence agents to deliberately assault each others' networks in a series of simulated attacks, later in the year.
The two leaders began two days of talks at the White House, over dinner, on Thursday night.
Banks in London and the Wall Street will be among the prime "targets" of the mutually-agreed cyber "war games", the British daily, The Guardian, notes.
The two countries will be establishing a new joint "cyber-cell" in cooperation. Members of the intelligence community said that agents from GCHQ and MI5 from the British side, and the NSA and FBI from the United States, will be working on the new entity. Reports suggest that agents will co-operate in the cells on both sides of the Atlantic.
It has been learnt that the Bank of England and other financial institutions have agreed to cooperate in carrying out the "war game" against the financial sector.
Citing a statement from the Downing Street, BBC reported that the first exercise – a staged attack on the financial sector – will take place later, this year. The exercise will be aimed at improving the flow of important information between the two countries about potential cyber threats.
The measures come just days after the hacking of Sony Pictures' systems as well as U.S. military's Central Command's Twitter account.
"Just as we have worked with our closest ally, the US, to protect our people and our countries from traditional threats, so we must work together to defend ourselves from new threats like cyber-attacks," Cameron said before his talks with Obama on Thursday, The Guardian reports.
"This is an evolving threat which poses a real risk to our businesses, and that's why we're taking our cooperation with the US to an unprecedented level. This is about pooling our effort so we stay one step ahead of those who seek to attack us," he said adding that the cyber-war exercise will help the two countries to ensure "that we have the capability we need to protect critical sectors like our energy, transport and financial infrastructure from emerging threats."