Defence Minister Manohar Parrikar said on Friday that reforms governing defence production would be finalised in the next few months, while saying there is a strong case for mindset change.
To drive home the point, he referred to Goa's industrial scenario that was bogged down by red tape before his party came to power in the state.
"We find similar set of mindset in defence production. We have taken these issues in defence production on priority basis and in a few months, they will be completed," said Parrikar, according to a PTI report.
However, he declined to give out details, saying he believes that only on completion of a certain task, could one gain 'bragging' rights.
Parrikar was speaking at the Goa Investment Summit organised by the Confederation of Indian Industries (CII).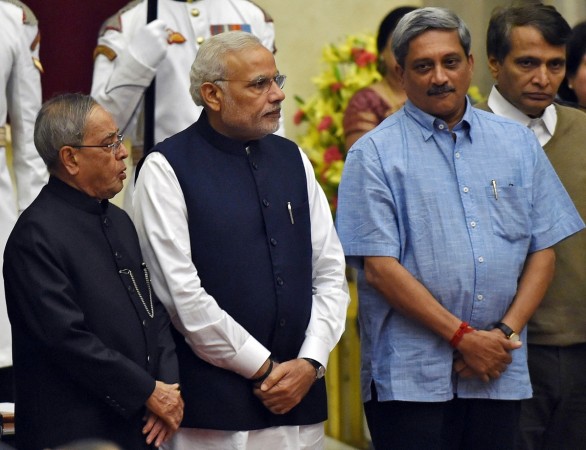 Prime Minister Narendra Modi has declared that defence sector will be one of the key sectors in his 'Make in India' initiative.
Roads Leading To Nation's Borders
Parrikar noted that several existing regulations have held back road repairs at the nation's land borders.
Road construction and repair at the country's borders is undertaken by the Border Roads Organisation, which has made a reputation for itself by carving out land routes in some of the toughest conditions upon earth.
India shares its land borders with Pakistan, China, Nepal, Bhutan, Bangladesh and Myanmar. It has long standing territorial disputes with Pakistan and China, forcing a significant amount of forces to be amassed at the borders.
"Defence of the country is of paramount importance. Enemy of the country is not going to consider your laws. There should be proper set of laws for defence projects," said Parrikar.
The reforms will address some of the long standing issues that has been plagued indigenous production of defence equipment, forcing India to be dependant on imports.
India is the world's largest arms buyer. Over the years, the country has started buying defence equipment from the US and Israel, a shift from its dependence on Russia.
Parrikar also added that the Narendra Modi government is contemplating setting up a helicopter production unit in the state.
He added that Goa would be a suitable location, given the availability of the necessary infrastructure, while clarifying that the programme is still not finalised.