Bollywood actress Deepika Padukone has garnered praise from all quarters for her look in Sanjay Leela Bhansali's Padmavati. Deepika as Rani Padmini looked breathtaking in the trailer of the movie.
While a few trolled her Padmavati unibrow look, most have praised the actress. From Deepika's jewellery to her costumes, everything looks perfect on her.
We wonder how she must have pulled off these heavy costumes. Padmavati's costume designers Rimple and Harpreet Narula were recently asked whether Deepika's costumes were heavier than Madhuri Dixit's in Devdas.
The weight of Madhuri's red lehenga in the Kaahe Chede Mohe song was almost 30 kg, and on top of that the actress was pregnant during the film's shooting.
As per our knowledge, the ensembles for such period drama are weighty, and Indian attires are in general way heavier than Western ones.
Rimple told Bollywood Life: "We have tried our best to keep it as light as possible. Like I mentioned, Devdas is a very recent story. Though it's a very old novel, the story of Padmavati is even older."
She added: "It belongs to 11-12th century, so the fabrics that were used or the embroideries that were done were all handmade, as was the case back in the era. So there is no machine work nor have we used anything inorganic. We have only opted for organic fabrics."
She further elaborated: "Just because the fabrics are organic, they are airy. I have used mulls, chanderis and kotas. I tried to make them comfortable. But in the end, they are Indian garments and all our garments are a bit heavier than the Western ones."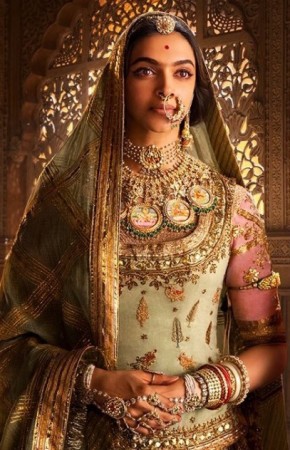 This is not the first time Deepika is wearing a heavy outfit. She has donned a lehenga for Ram Leela that almost weighed 30 kg, and an armour in Bajirao Mastani that weighed 20 kg.
Watch Padmavati trailer here: