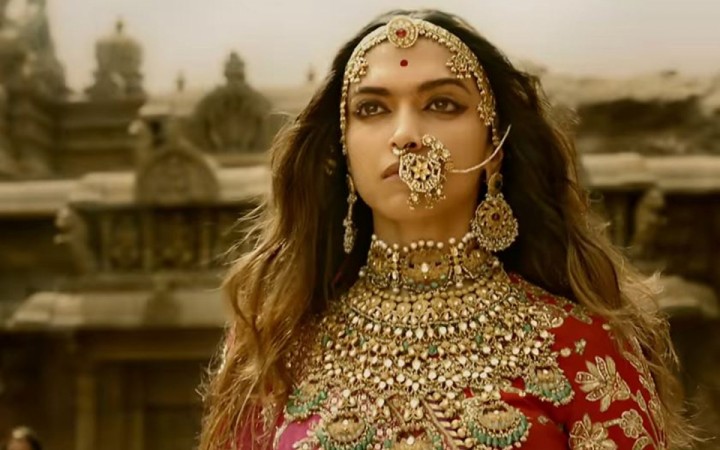 Sanjay Leela Bhansali, who has been facing some tough time over the release of his much-hyped Padmaavat, has apparently won the first battle. Well, the Tamil version of the movie was screened for critics in Chennai and the magnum opus has garnered highly positive reviews.
In Pics: Padmaavat special screening | Deepika at Siddhivinayak temple | Padmaavat new stills
The critics have gone gaga over Sanjay Leela Bhansali's creation and hailed the lead actors in unison. According to them, Shahid Kapoor plays a dignified role and has come out with a commendable performance. Special mention for expressive eyes.
With her impeccable looks and grand costumes, Deepika Padukone has carried the title role with great dignity. Especially her performance in the climax will leave the audience in awe.
Second half belongs to Ranveer Singh, who will be seen as ruthless Alauddin Khilji. With Padmaavat, the actor has proven that he is a rising superstar.
Last but not the least, Sanjay Leela Bhansali has delivered a masterpiece and beautifully portrayed the valorous spirit of the Rajputs and their immense courage.
Here, find the critics' tweets about Padmaavat:
Kaushik LM
#Padmaavat - @shahidkapoor as the Rajput king of valor and honor, completely looks the part. For an ace actor like him who has played far more complex roles (Haider, Udtaa Punjab), this is a piece of cake. He holds his own in an epic film!
#Padmaavat - Superstar @deepikapadukone's #Padmavathi is such a strong, dignified & honorable part. With impeccable looks & grand costumes, she just takes charge of that mesmerizing climax segment. #SanjayLeelaBhansali portrays his women so so well
#Padmaavat - @RanveerOfficial's Khilji is arguably the most badass character in recent Indian cinema. He plays it without any inhibitions whatsoever and you'll root for this ruthlessly evil man, full-on. Again, he establishes himself as a rising Superstar - SuperActor
Rajasekar
Except cricket, Sri Lanka seems to be India's biggest enemy. Raavana for Ram and Sita, Sinhala queen Padmini's arrival destroys the Chittor fort #Padmavaat effect. #Sorry :D
Thank you for entertaining us with your fantabulous acting and majestic screen presence, keep rocking
#Padmaavat - 4.5/5, @shahidkapoor as the brave Rajput King has delivered a subtle yet commendable performance. His character will be the face of the Rajput pride
#Padmaavat #Padmavathi Tamil dubbing is just perfect, kudos to the team. Don't know why these guys created unnecessary trouble, SLB has created an epic. He equally glorified Rajputs and Khiljis #Masterpiece
#Padmaavat - 4.5/5, Loved @deepikapadukone as the elegant Queen Padmini. Her majestic walk in the climax is just wow, she carried the role with great dignity. Definitely her career best
#Padmaavat - 4.5/5, the film belongs to acting monster @RanveerOfficial. He completely nailed it as the deadly Alaudin. Sanjay Leela Bhansali has given an artistic epic #Padmavati #Padmavathi
#Padmaavat first half - @RanveerOfficial steals the show so far as Alaudin , takes the film to a different level. @deepikapadukone 's character sketched with so much dignity, loving it #Padmavathi
Surendhar MK
#Padmaavat: @shahidkapoor holds sway in showcasing the values of Rajputs with his beautifully understated performance. His expressive eyes add more power to his role, which has so much to take home for every proud Rajput.
#Padmaavat: @RanveerOfficial and his idiosyncrasies make a never-seen-before LETHAL combo. He's making the madman roles look absolutely effortless time and again. He's got that monstrous screen presence which no other contemporary Bollywood actor has. Period. #RanveerSingj
#Padmaavat: In a film ruled by energetic performers like @RanveerOfficial & @shahidkapoor, @deepikapadukone quietly pulls off a dignified titular role & stands out with her own merit. If you come out with an awestruck, emotionally high climax, it belongs to #DeepikaPadukone
#Padmaavat: The razor-sharp precision and mind-blowing symmetry in #SanjayLeelaBhansali films is second to none in Bollywood. He quietly churns out yet another masterpiece. What a magnificent storyteller! Dignified, solid portrayal of the Rajputs.
#Padmaavat (4.5/5): Every RAJPUT can be proud of their legacy and this film. SLB portrays the valorous spirit of the Rajputs & their immense courage. While @RanveerOfficial & @shahidkapoor pull off competent performances with terrific ease, @deepikapadukone OWNS the climax
#Padmaavat: A BREATHTAKING VISUAL SPECTACLE. @RanveerOfficial, @deepikapadukone and @shahidkapoor make everyone sit up and take notice in the last 20 minutes. Spellbound. Gooseflesh-busting climax. SANJAY LEELA BHANSALI Take a bow.
#Padmaavat first half: @deepikapadukone looks ETHEREAL in each and every frame. She aces the role with her regal costumes . She lets the story take centrestage in the first half. Now she's all set to dominate the second half with @RanveerOfficial.
Ramesh Bala
#Padmaavat [4.5/5]: Finally, Dir #SLB has delivered a Masterpiece..
Outstanding cinema..
A movie not only #Rajputs but all Indians can be proud of.. MUST WATCH!
#Padmaavat [4.5/5]: @aditiraohydari in a fine supporting role.. She makes a good impact in a short role.. Camera, Music and all the technical departments are top-notch..
#Padmaavat [4.5/5]: @shahidkapoor as the king is dignified.. A memorable and respectable performance indeed.. Climax sword fight..
#Padmaavat [4.5/5]: @RanveerOfficial 's acting is Vera Level..
From his opening scene to the climax, he scores in each and every scene..
His intensity and body language..
Another award worthy performance..
#Padmaavat [4.5/5] : @deepikapadukone as Rani #Padmavati is exceptional.. Her dignified portyal of the character will fetch her lot of awards..
The role requires someone who is a stunning beauty, with intelligence and kindness..
She is convincing in all three counts..
#Padmaavat [4.5/5]: An Epic in every sense of the word.. A movie Indian Cinema can be proud of.. What a performance by the cast.. Goosebumps inducing Climax.. U will leave the theater stunned..
#Padmaavat 1st Half: @shahidkapoor as king is measured and delivering a royal performance..
Halfway through, I already got more than my money 's worth..
2nd half is bonus..
Dir #SLB is once again proving he is a Master Storyteller..
#Padmaavat 1st Half: An Epic in the making.. A visual spectacle.. @deepikapadukone as #Padmavati is some1 u admire and revere at the same tym.. Her screen presence has to be seen to be believed.. @RanveerOfficial as Madman #Khilji is terrifying and terrific at the same tym