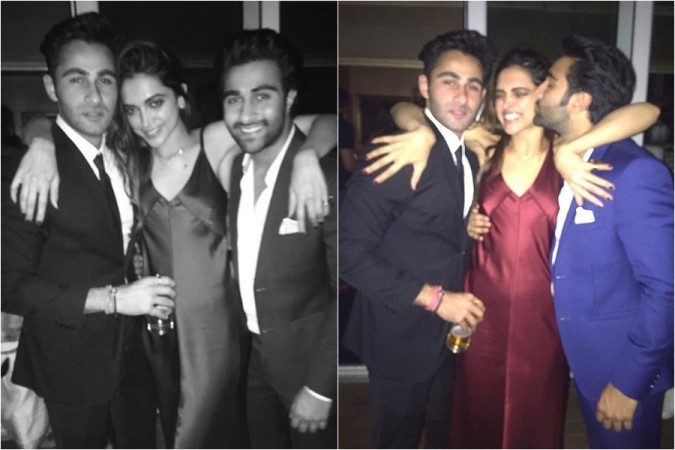 A few days ago, Deepika Padukone was slut-shamed for celebrating the success of the trailer of her upcoming film Padmavati with Ranbir Kapoor's cousins Aadar Jain and Armaan Jain at her residence in Mumbai. While Deepika has kept mum on the issue, Aadar Jain has finally offered some words of wisdom to the haters.
"If we are at a party and are clicking photos, what's the harm in that," Aadar Jain snapped at netizens who trolled Deepika on social media.
Both Aadar and Armaan had shared a picture with Deepika after having loads of fun at the party. In one picture, Deepika is flanked by Aadar and Armaan while in the other picture, Aadar is seen planting a peck on the actress' cheeks.
While there was nothing wrong in both the pictures, Deepika still found at the receiving end of the trolls who even went on to call her desperate, vulgar and a drunkard.
"Yes, a lot of people have opinions to say and they will say something or the other. I don't think there was anything to the photo," Aadar told Pinkvilla.
"It was just all of us having a great time. It was the success of the Padmavati trailer, and I think she was having a party after a long time. It was great to have everybody together. It was a great time to enjoy ourselves that evening. That's about it," he added.
Well, Deepika has always been the favorite of the trollers who often go and check her pictures out on her social media handles and even make sure to throw nasty comments at her. However, the actress has always remained unperturbed by the negativity that social media generally offers.
And if you are global star, criticism will come knocking at your doorstep. So Deepika, just ignores the hate and keeps entertaining us.