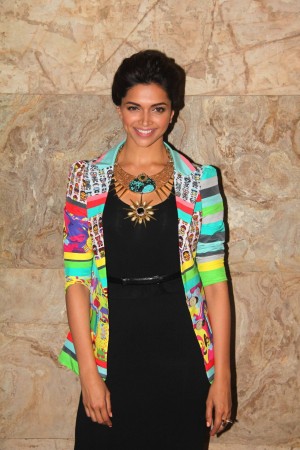 Actress Deepika Padukone has done the unthinkable, declining senior actor Rishi Kapoor's reference.
Kapoor had apparently suggested Padukone's name for an item number in Subhash Ghai's upcoming film "Kaanchi."
As surprising as it may sound, the 61-year-old went out of his way and approached the actress, to feature in an item number in Ghai's film. But Padukone stating her reservations turned down the offer eventually.
"After hearing the song, my actor friend (Rishi Kapoor) sent a message to Deepika to do my item number as he felt it was an amazing song to dance to, and that Deepika would be apt to do this special appearance. But she declined gently as she is not inclined to doing special appearances. She'd rather play the main lead," the filmmaker told Hindustan Times.
However, instead of holding grudge against Padukone, the filmmaker appeared quite pleased with the actress' rejection and welcomed her decision.
"I was relieved because I was in two minds, as I kept thinking that a big star's special appearance can be harmful for the new cast of the film. I am the least in favour of such appearances because they show the lack of confidence or greed for money or marketing gimmicks. I want to make "Kaanchi" with utmost sincerity and that will pay for sure," assured Ghai to the tabloid.
But more than the actress' rejection of the item song, we were surprised that Kapoor suggested Padukone's name voluntarily when a cold equation between the two is an open secret.
If one recalls, Padukone had openly made unfavourable comments on Kapoor's star son Ranbir in "Koffee with Karan" during its last season. The actress's comment had certainly not gone down well with the senior actor and he had voiced his displeasure openly.
Also it has been rumoured that Padukone and Ranbir's once strong relation fell apart since the latter's parents disapproved the actress as their son's partner.
But despite the prevailing equation, Kapoor's forthcoming gesture makes us wonder whether the actor is back on good terms with Padukone or is he trying to mend the differences and extending olive branch to the actress.
Take a look at the Padukone and Sonam Kapoor's controversial jibes at Ranbir Kapoor in "Koffee with Karan" Season 3: