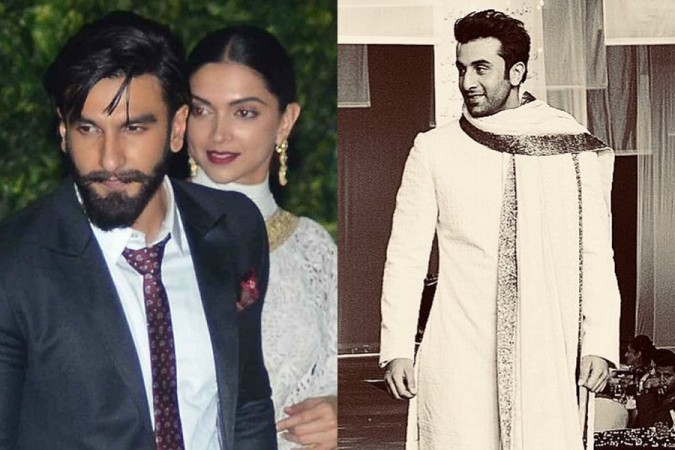 On the occasion of World Photography Day, Deepika Padukone shared a picture on Instagram that features her along with ex-boyfriend Ranbir Kapoor. Although it is a still from their movie Tamasha, this gesture did not go down well with fans of her current beau Ranveer Singh.
The image shows Deepika clicking a picture of Ranbir, who is posing from a hill-top. Deepika shared the picture with the caption reading, "Capturing moments."
As soon as she posted the photo, a series of comments started pouring in -- some pleasant and some not so pleasant. Interestingly, many mistakenly thought that it was Ranveer and not Ranbir in the picture. There are also several comments from confused fans asking if it is Ranveer in the frame.
People who know that it is from the movie Tamasha were quick to clear the doubt confirming that it is indeed Ranbir in the picture. However, the angriest reactions came from fans who thought it is not appropriate for Deepika to post pictures of her ex when she is rumoured to get married to Ranveer soon.
Miffed by her act, some commented that Deepika has still not completely gotten over Ranbir and she does not deserve Ranveer. Some even went on to say that she should either completely forget Ranbir or should not marry Ranveer.
Although Ranveer and Deepika usually like and comment on each other's Instagram posts, the Padmavaat actor did not do the same with this post. Fans noticed that as well and said that they are waiting to see if Ranveer makes any comment on this.
Check the post and some of the comments it received:








It is to be noted that Deepika had done something similar last year as well while wishing Holi to her fans. She had shared a Holi picture from the film Yeh Jawaani Hai Deewani and again the photo featured her and Ranbir.
Many fans of Ranveer were annoyed with her as they felt she could have shared a picture from the film Ram Leela, which also had Holi sequence between her and Ranveer.