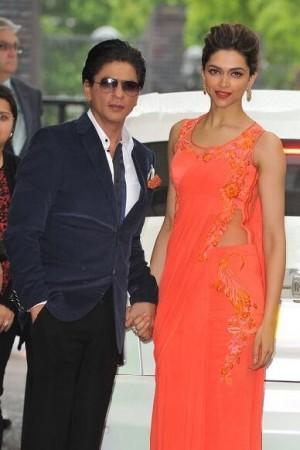 Deepika Padukone is on a new high having bagged third consecutive blockbuster of the year with "Chennai Express", and she believes it is her hard work and choice of films which is doing wonders.
The leggy lass, who has completed half a decade in the industry, has now cemented her position among the top ranks not just by her ravishing looks but her spontaneous acting prowess over the years.
The 27-year-old actress has three big box office hits this year after the versatile Veronica act in "Coctail" last year.
Deepika in an interview to IANS spoke of her continuing success steak: "If people are saying it's my year, it depends on my films."
"I think these things are relative. It feels nice to hear or to read about it. But, more importantly, I have been working really hard. I know I have pushed myself and sacrificed a lot of personal and family time. But in the end if the result is like this, you don't mind. But, yes, I think success is relative."
The actress' first release of 2013 "Race 2" joined the ₹100 crore club while the June release of "Yeh Jawaani Hai Deewani" did wonders at the box office. And in this context, the record breaking "Chennai Express" is touted as the possible fastest film to reach ₹100 crore with three-day collections already nearing ₹90 crores.
Deepika's professionalism cannot go unhindered right from slipping into the South Indian sari-clad and Tamil-accented avatar to the emotionally disturbed spoilt kid. It cannot be ignored that the beautiful actress excused her personal issues and gave in to work with her ex-flame Ranbir Kapoor on the director's insistence.
"I have to focus all my energies and hope that the next film is better. It does not get easier to live up to all of that. I want that with every film, the love, success and experience increase," added the doe-eyed beauty.
Speaking of her experience on making the entertaining comedy, the actress said the genre was tough task: "Comedy is the most difficult. Comic timing is something which you either have it in you, or you don't. You have to have a good sense of humour to be able to understand it."
"A split second can make you lose the punch. As actors, it is very difficult to perform it the same way every time, for the audience to find it funny."
The chirpy actress was all praise for director Rohit Shetty's flexibility and organized work culture while for co-star Shah Rukh Khan, she said, "He is still as caring, loving, charming, giving and protective. For me, there was no difference from "Om Shanti Om". Even though it took us five years to come back (in a film), we were always in touch."
Incidentally, SRK and Deepika's last outing "om Shanti Om" too was a super success at the box office which landed Deepika with a Flimfare Debut award.
Deepika is gearing up for her November release of the epic love story "Ram-Leela" directed by Sanjay Leela Bhansali; along with it she also has the magnum opus southern release "Kochadayian" starring superstar Rajinikanth.