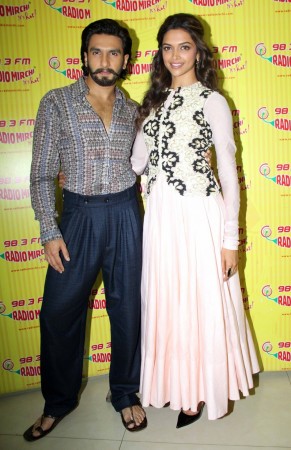 Deepika Padukone, who has signed Sanjay Leela Bhansali's "Bajirao Mastani" opposite alleged boyfriend Ranveer Singh, is apparently worried about him taking roles too seriously.
"Deepika has been telling him not to let the role affect him so much that he actually starts living it. However, knowing Bhansali's style of working where he asks his actors to become the characters they play, it is quite difficult for him to not become Bajirao!," Bollywood Life quoted a source.
A few days ago, it was reported that Singh went on a self-exile, shut himself up in a hotel room in order to get into the skin of his character. He reasoned this severe step as a process of creative exploration of self.
"Yes I will be underground for a considerable amount of time. I have finished all my endorsements and commercials. Once I go into this zone, I want to go into the depths of it. I have a physical transformation that I have to do, I have to shave my head bald. I think am going to explore myself as an actor creatively as much as I can with this character. I will definitely be going into a zone and go underground, it will be for a long time but I think it will be worth it," BL quoted the actor.
Well, looks like Padukone is after all not wrong in being worried about her rumoured beau. This concern probably explains why she often mentions Singh as an "important" part of her life. In an interview with Filmfare, she called the "Kill Dil" actor an "energetic soul", adding that he is the most compatible person she has ever met in life. The gorgeous actress also went on to reveal that the tough guy is also a sensitive and emotional person, which is quite the opposite of what comes across.