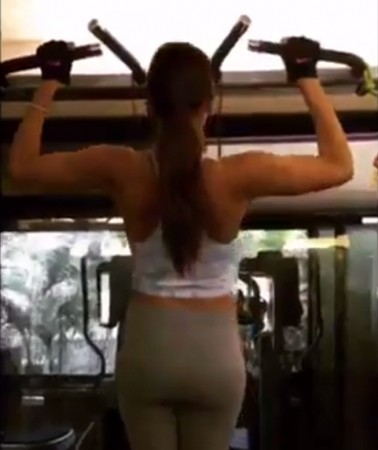 Deepika Padukone is all set to make her Hollywood debut with the upcoming movie "XXX-The Return of Xander Cage", and is prepping hard to fit into the role. A video has come up in which Deepika is seen working out in a gym, and the actress looks both hot and strong.
A fan page on Twitter shared the video and it is getting all the attention it deserves. Deepika is being trained by Yasmin Karachiwala. She is seen doing chin-ups in the video, which shows the actress from behind. This exercise is primarily done to strengthen arm and upper torso muscles.
Deepika will reportedly play the role of a huntress in "XXX-The Return of Xander Cage", starring Vin Diesel. While she will reportedly be seen as Vin Diesel's former love interest in the movie, Deepika will be sharing screen with other stars like Jet Li, Tony Jaa, Nina Dobrev and Ruby Rose.
Deepika, who is currently one of the most-sought-after actresses in Bollywood, had said she is excited about her Hollywood debut, but also nervous. "I am very excited. But I want to confess that I am very nervous. Most importantly, I feel proud to be a part of a film where I get to show my ethnicity," Deepika told PTI. The "Bajirao Mastani" actress added: "The reason they are roping me is because of my background. I really hope that I do well in the movie and people go and watch it." Check Deepika's working out video here: