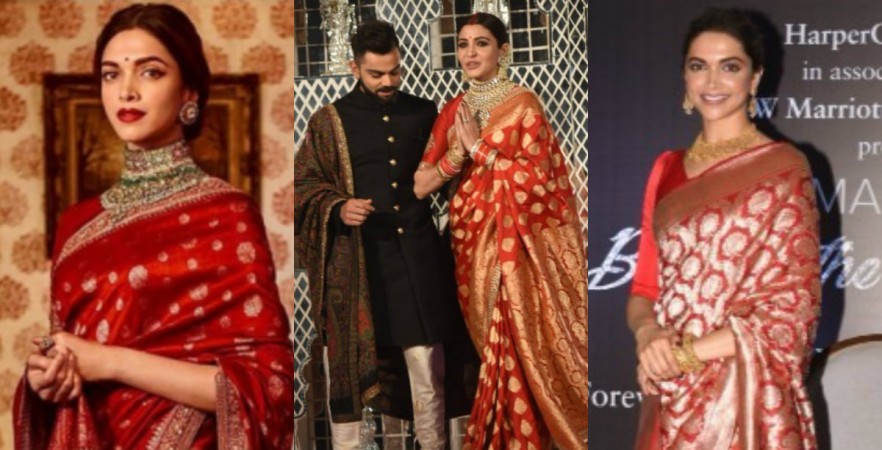 Newlyweds Anushka Sharma and Virat Kohli looked breathtaking at their wedding reception in Delhi on December 21. Apart from relatives and close friends, Prime Minister Narendra Modi too arrived at the ceremony to congratulate the couple.
The cricketer-actress duo looked stunning in their traditional attires. Designer Sabyasachi has created all the outfits of Anushka-Virat for the entire wedding ceremonies, including the reception.
Looking at Anushka's attires, it seems Sabyasachi was in no mood to create something fresh for the couple, especially the bride. From Anushka's wedding jewellery to her wedding reception saree, all seemed to be inspired from his earlier displayed designs.
Do you know who else wore such designs? It was Anushka's so-called "rival" Deepika Padukone.
Deepika attended Jio Filmfare Awards in October and wore an embroidered Sabyasachi sari with a long trail behind her. She also wore a pair of golden jhumkas to complete the look. The same earrings Anushka wore in her wedding and in fact, the design of the outfit was also similar.
Now, Sabyasachi did it again. Coincidence or not, the red Banarsi saree Anushka opted for her reception in New Delhi, is similar to the one that Deepika had picked for Hema Malini's book launch. However, both looked stunning.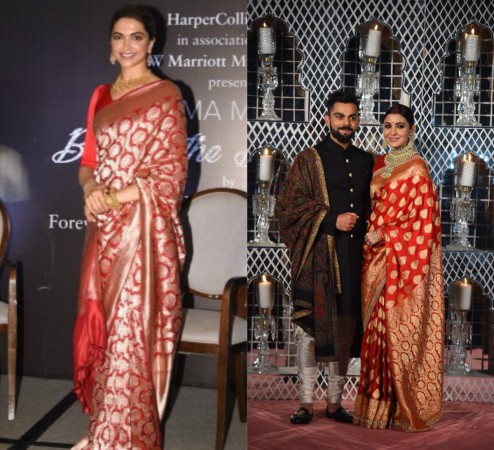 Also, Deepika was draped in a beautiful Sabyasachi saree and paired her look with a bindi and traditional jewelery in one of the photoshoots said to be for Padmavati. Well, it looked quite similar to Anushka's reception appearance.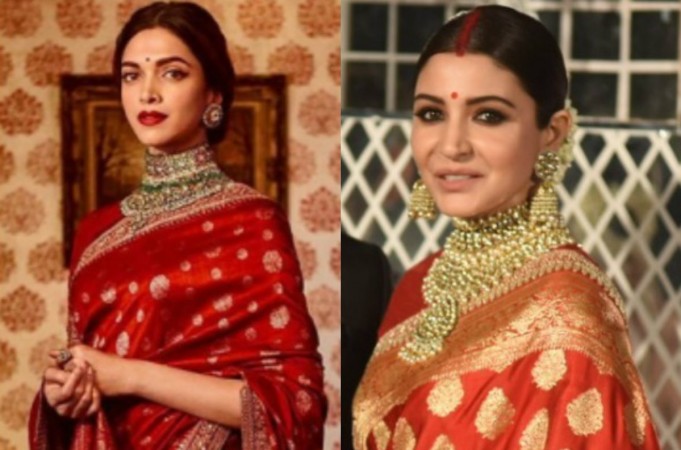 Whether Sabyasachi is promoting his same old designs or Anushka actually wanted similar outfits that Deepika wore, we'll never know.
We hope people will see Anushka in something different and fresh at the Mumbai reception, which will be held on December 26.