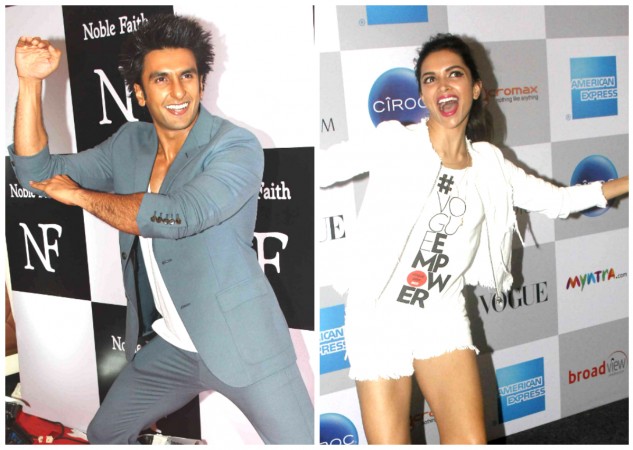 After Ranbir Kapoor-Katrina Kaif, Ranveer Singh-Deepika Padukone is another alleged couple who loves to bluntly deny rumours of sharing any kind of romantic bonding.
While Singh has recently said he is only focusing on his career, and not 'thinking' about marriage, his 'rumoured' girlfriend Padukone can't get enough of his antiques.
The "Finding Fanny" actress was seen "pulling off some rather eccentric stints" at a recently held event in Mumbai. Padukone, who is almost always in her element and ready for a quick photograph, reportedly made some crazy poses, according to a Bollywood Life report.
It is often said that when two people have bonded well for a long time, they rub off some of their innate qualities unknowingly. Now, it looks like Padukone is in that 'phase' of her relationship with her "Ram Leela" co-star. Will this 'special' bond translate into marriage? Only time will tell.
Despite the warmth this apparent friendship has been giving off, Singh has surprisingly gone on record to deny having marriage on the cards. "I don't even think about it, as of now. I am only thinking about which movies should I do that will make a mark, and what parts I should play that will become memorable," he told Hindustan Times.
Busy with his lined-up projects, the actor added that he is more interested in exploring himself for now. "I am really enjoying the process. I am exploring my creativity and myself, as an artiste, by trying new things. I am caught up in it and things are moving fast for me. So I don't have the time or headspace to think about such things."
However, at the "Finding Fanny" special screening, they were reportedly spotted exchanging pleasantries and Padukone was rather beaming with joy. Wonder what Singh would have to say now.