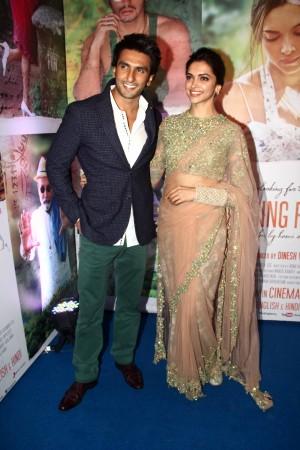 Deepika Padukone and rumoured beau Ranveer Singh have bypassed questions on their relationship status for the longest time. But with the actor going out of his way to support DP makes the gossip slightly credible.
They might not come clean on their hush-hush affair, but the speculations have begun. According to a Daily Bhaskar source, the "Piku" actress' parents are very happy with Ranveer adding that the leading lady is now ready to take the plunge.
"Deepika's parents are very happy with Ranveer and now they want them to make their relationship official by getting engaged at the earliest. Ranveer was very comfortable with Deepika's family; in fact he also played a host at her dad's birthday. However Deepika who wasn't ready for the commitment is now convinced to take her relationship to next level with Ranveer," the source further elaborated.
If true, this has the potential to be Bollywood's biggest news. However, there has been no official announcement from them, and so, it can, at best, be counted as a speculation.
What's interesting is, at the recently concluded IIFA Awards 2015, Ranveer reportedly went down one knee presenting Deepika a toy heart, which she gladly accepted.
Also, this gorgeous actress said she would love to settle down as she's a family person. "I can quit acting and lead a domesticated, happy family life away from the limelight. For me, nothing is more important than the relevance of family in our lives. That feeling of completeness," DNA quoted her as saying.