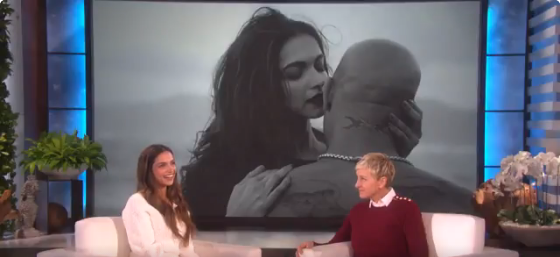 Sharing a clip from The Ellen DeGeneres Show, for fans across the world, Ellen DeGeneres posted a video featuring xXx: Return of Xander Cage actress, Deepika Padukone. The four-minute video shows the talk about her rumoured affair with Vin Diesel and her Hollywood journey.
Also Read: Deepika Padukone spends a day with Ellen DeGeneres on her show; watch teaser of the episode
"There is no smoke without fire," Padukone said, when DeGeneres asked the actress if there was something going on between Diesel and her. "But it is all in my head. In my head, we are together and we have this amazing chemistry, we live together and we have these amazing babies," she explains. "It was never a crush," she clarifies.
Sharing her journey from Bollywood to Hollywood, Padukone shares, "I auditioned for Fast 7 about two or three years ago and for whatever reasons that didn't work out. I think people remember me from that audition, everyone talks about that chemistry and people remember from that. And then about a year ago, I get call from Paramount (Pictures) saying they are casting and I flew down, met the director."
She then met Diesel and suddenly, in the middle of night, she is a part of a 45-minute professional photo shoot with him. While she did pose for the camera, she didn't know if she got the part. "I still didn't know if I got the part. We got into this serious photo shoot and he just put it (one of the pictures from the photo). I said, I do hope you know that if you put that picture up, it means I am doing this movie," she laughed.
Watch the entire interview with DeGeneres here:
After appearing on the Ellen DeGeneres Show, Padukone will also debut on The Late Late Show with James Corden. Teasing fans about the news, Corden shared a gif and a photo from the sets of the show featuring Padukone and Vin Diesel.
In the picture and gif shared, the actress and Diesel are seen having a great time, laughing away on the show's couch. The actress debuted on two US TV shows on the same night.