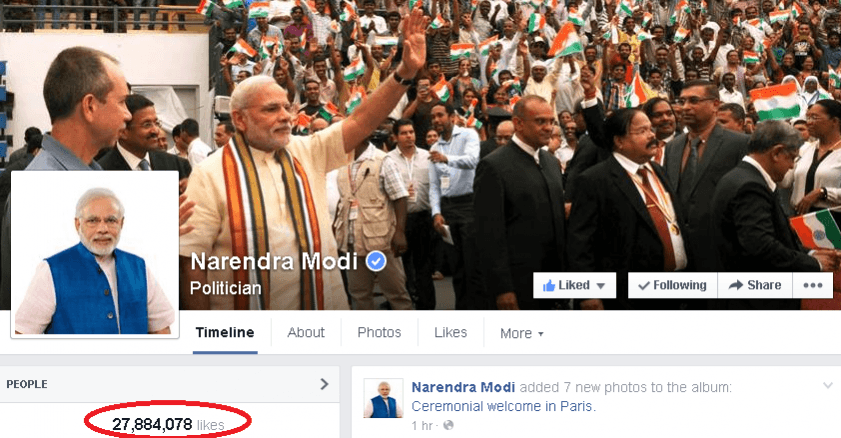 Within weeks, Indian Prime Minister Narendra Modi has lost more than one lakh followers from his official Facebook account. Modi had over 2.8 crore 'likes' in March, but almost 1 lakh of these disappeared bringing the count of his 'fans' to 2.78 crore.
Memes on BJP Go Viral After it Becomes 'Biggest Missed Call Party'
A detailed analysis reveals that Modi had almost 23,00,000 'likes' on Facebook as of July 2013. Soon after he was elected as the Indian PM, it rose to 2.36 crore during May-October, 2014, due to the 'Modi wave'. It was the time when the BJP had won Haryana and Maharashtra elections.
However, since the beginning of this year until March, Modi's Facebook page had nearly 2.8 crore likes, which has now declined to 2.78 crore.
While the opposition party members say that it is due to the controversies Modi faced after he became the PM, BJP's national communication cell convener Arvind Gupta blames it on "technical issues".
"This does not reflect anything as it is a technical issue. Facebook periodically cleanses 'likes' from accounts that have been inactive for long or have been deactivated or are not trustworthy. This is a routine technical matter," said Arvind, according to DailyMail.
Recently, Modi was criticised for wearing a pinstriped suit with his name weaved into the fabric during the Republic Day celebrations. This was the time when US President Barack Obama and First Lady Michelle Obama had visited India.
Modi supporting corporates and his take on the Land Acquisition Bill too have also been said to be the reasons behind the dwindling number of 'likes'.
However, many of his fans strongly claim that he lost the followers on Facebook as the social media giant has started removing fake accounts from the site.