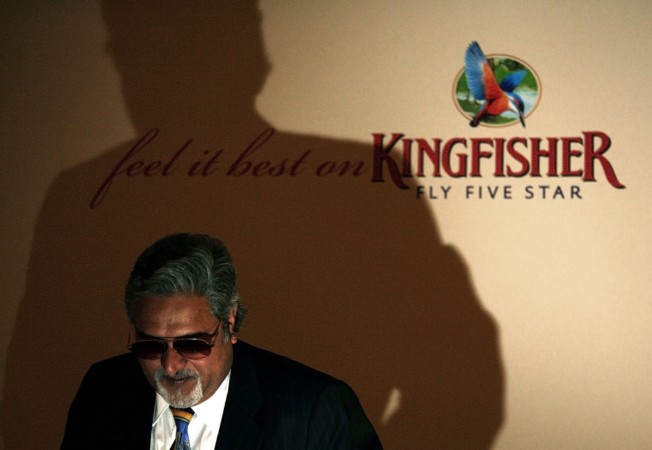 Debt fraught United Breweries (UB) group Chairman Vijaya Mallya faced a double whammy from the governmental authorities Monday. Bengaluru division of Debt Recovery Tribunal (DRT) acted on a civil suit against him, and later in the day the Enforcement directorate (ED) slapped charges of "economic crime" under the country's money laundering act.
The DRT passed an order temporarily restraining him from withdrawing the $75 million (Rs 515 crore) exit-payment made to a deal in which U.K.-based liquor giant Diageo plc acquired his subsidiary United Spirits Ltd. The order came in the backdrop of his Kingfisher Airlines loan default case filed by State Bank of India (SBI), leading a consortium of 17 lender-banks, reported the Financial Express.
SBI, last month, had claimed the first lien on $75 million payout immediately after the acquisition deal, accusing the liquor baron of Rs. 7000-crore default.
CR Benakanahalli, presiding officer of the bench, directed that the sum would stand attached till further orders on the proceedings initiated by the banks to recover the money borrowed by Kingfisher Airlines Ltd. It also ordered both companies to disclose the details of the agreement to the consortium of banks led by the SBI, reported Business Line.
Crime Charges
On the heels of DRT's order, the country's economic intelligence agency, the ED, filed an "economic crime" case against Mallya and six other executives of the Kingfisher Airlines for another default of over Rs 900-crore loan from IDBI Bank. Official sources told Business Line that ED is looking into the "proceeds of crime" that would have been generated using the funds of the alleged loan fraud.
The ED Monday, March 7, invoked the Prevention of Money Laundering Act (PMLA) based on the FIR filed by the CBI last year. The CBI had registered a suo motu case against the company in July 2015. The ED will now probe if the money lent to Kingfisher Airlines was diverted to tax havens abroad, reported FE.
Mallya blamed the media Sunday for spoiling his repute and the governmental policies for the failure of his Airlines. He stressed for a one-time settlement with banks. A statement said that after the closure of the airline, banks have recovered Rs 1,244 crore from the sale of pledged shares. Another Rs. 600 crore had been deposited with the Karnataka High Court. Totally, ₹2,494 crore has been recovered, he claimed, said the reports.