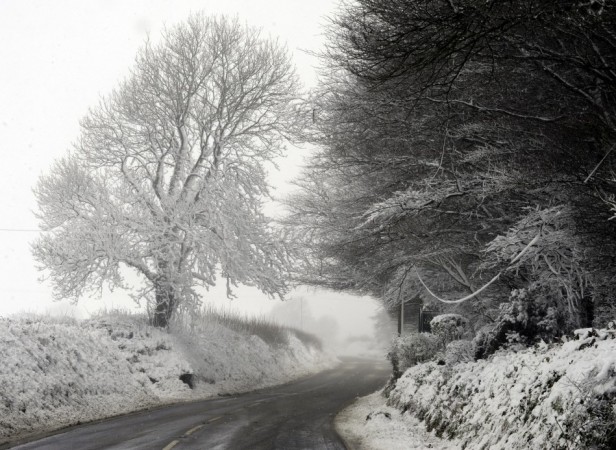 Heavy snowfall and biting cold has disrupted life in Jammu and Kashmir for a third consecutive day, with the national highway shut down and irregular power cuts.
The 294-km Srinagar-Jammu National Highway, connecting Kashmir, has been closed down till the evening. The officials, however, announced that vehicles within the nearby areas will be allowed.
The season's coldest night was recorded at Leh, in the Ladakh region, at minus 15.3 degree Celsius, eight degrees lower than Tuesday's minus 7.2 degrees Celsius, reported PTI.
Heavy snowfall brings in #NewYear cheer to #Kashmir Valley and Himachal Pradesh pic.twitter.com/uAVsUlx0MS
— Doordarshan News (@DDNewsLive) January 1, 2014
"The minimum temperature in Pahalgam, in south Kashmir, dipped by nearly eight degrees to settle at minus 12.2 degrees Celsius compared to minus 4.6 degrees Celsius the previous night," said a MeT Department official. While famous ski resort of Gulmarg recorded a low temperature of minus 11.0 degrees Celsius, Kargil registered a temperature of minus 11.6 degrees Celsius.
Due to the snowfall, Kashmir Valley has been pulled into a power crisis. As per a report by Rising Kashmir, four patients died on New Year's Eve because life supporting system, including oxygen supply and ventilators, in hospitals suddenly stopped working due to a power cut.
The Met department has predicted light snow or rainfall across the Kashmir Valley for the next 24 hours. Citing the intense cold conditions, Kashmir University had postponed all examinations scheduled for this week.
Cold waves reached neighbouring states of Punjab and Haryana as well. The city of golden temple, Amritsar, recorded a low of 0.8 degree celsius, while capital city Chandigarh registered a low of 5.6 degree celsius.