Salman Khan recently received death threats, which has halted the shooting of his upcoming movie Race 3. While the actor was shooting, policemen rushed to the sets to inform the crew that a group of armed men are heading towards Film City.
Race 3's shooting is going on in Film City. After the cops broke this news to Salman, they rushed him to safety at his Bandra residence, Mumbai Mirror reported.
"The police arrived at the Race 3 set in Film City and told Salman and producer Ramesh Taurani that the shoot had to be stopped immediately as the actor needed to head home as soon as possible. Salman was escorted in another car by six cops, while his own car was driven back to his residence by another group of cops," a source from the set told the daily.
The report further suggested that the threats received by the actor at Jodhpur court last week may have triggered this latest threat. While Salman was in the Rajasthan city for hearing in the blackbuck and chinkara poaching cases, a Punjab gangster Lawrence Bishnoi reportedly threatened to kill the actor.
"This is not the first time a threat has been issued against Salman or a member of his family, and the actor is often spotted about town without security or even his bodyguard, Shera, but anticipating an unprecedented attack, he has been asked to be extra safe," the senior inspector told Mumbai Mirror. "The police are taking Bishnoi's threat seriously but we have assured Salman that he will receive maximum police protection. We are also investigating the motive behind Bishnoi's threat to Salman."
Gangster Bishnoi apparently wanted to teach the Jodhpur police a lesson by killing the actor. According to Hindustan Times, Lawrence was brought from Faridkot jail in Punjab to Jodhpur court on Friday. He was accused of murdering a businessman named Vasudev Israni.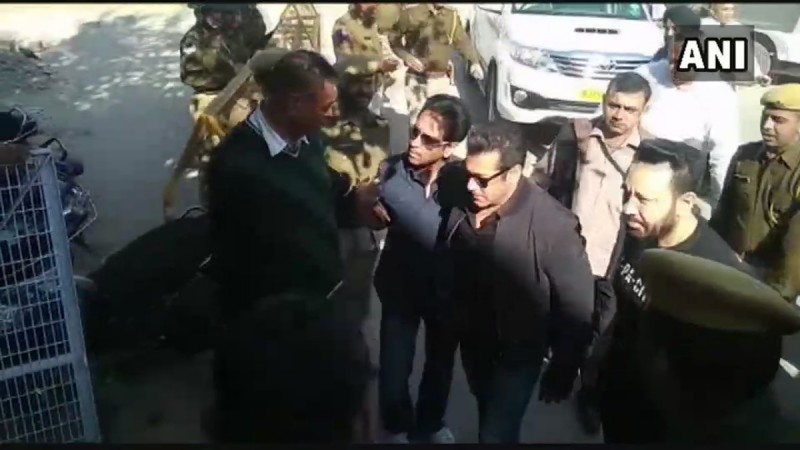 While talking to reporters when he was brought to Jodhpur court, Lawrence had issued a threat to kill Salman Khan.
"I will murder him (Salman Khan) in Jodhpur only. I will flee from police custody whenever I want but I am not escaping from custody anytime soon," Lawrence said. "Now, if the police want me to do some major crime, I shall kill Salman Khan and that too in Jodhpur."
Now, this threat has encouraged other threats against Salman and now, it is affecting his Race 3 shooting. When Mumbai Mirror reached out to Ramesh Taurani, he said: "There are additional bouncers, guards and personnel to safeguard Salman and the unit at all times."