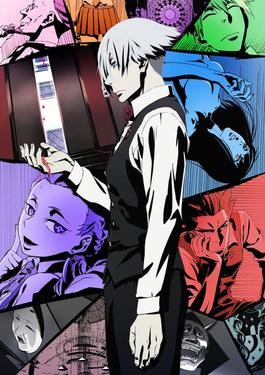 Season 1 of "Death Parade" ended on a satisfying note as Decim finally welcomes the new guests to Quindecim and arbiters understood the reality of human emotions and feelings.
However, there are a number of questions that were left unanswered and might be explained in the second season of the anime.
According to Anime Arena Plus, characters like Oculus still have a lot of mystery behind them that might be explained in the upcoming season. Oculus does not possess same kind of power as Decim and other permanent members of "second world."
However, it was never explained in Season 1 that why it was so and whether Oculus has some different powers of which he and other characters are unaware of or not.
In the final episode of Season 1 titled "Suicide Tour," Oculus said that he himself is also a puppet. His statement hinted at a more powerful figure under whom Oculus works and controls the world.
Hence, the second season will most probably explore the mysterious past of Oculus and his origins, apart from revealing the entity under whom he works.
In Season 1 finale, as Oculus confronted Nona, who wanted to prove that arbiters are more than dummies, Decim brought Chiyuki to her old house, offering her the chance to be brought back to life in exchange for another's life.
Observing how much her mother cared for her even after her death, Chiyuki came close to taking up the offer. However, upon remembering everyone she met in the Quindecim, she ultimately decided against it, believing that the life that would've been sacrificed also has people who cherish them and regretting not cherishing her own life.
This affected Decim's emotions, who revealed this was all part of Chiyuki's judgment and experienced sorrow for the first time. As Nona observed the outcome with Oculus, showing that an important part of judging humans is to understand their suffering, Decim saw Chiyuki off to be reincarnated with a smile on his face.
With Nona and the others arbiters pondering where things will go from here, Decim welcomed new guests to the Quindecim, with the camera fading on Chiyuki's dummy.
Even though there have been no official confirmation of Season 2 yet, there is a possibility that the makers will come out with a second season to answer the questions left in Season 1.