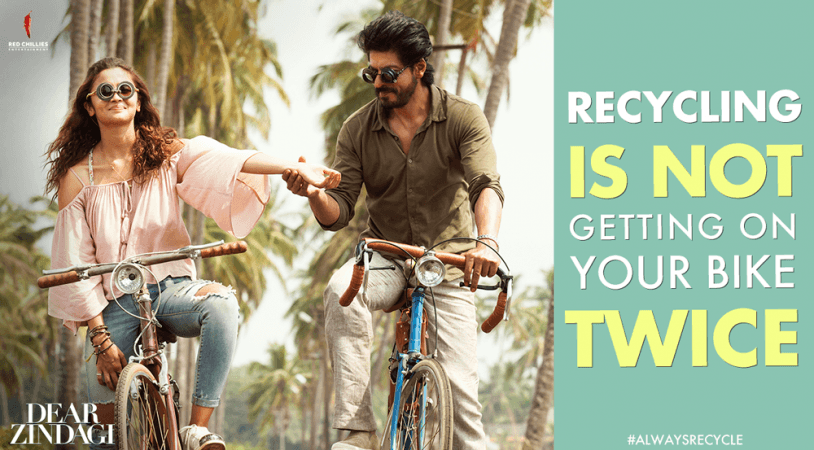 As promised by director Gauri Shinde, Dear Zindagi teasers are getting interesting with each release. The fourth one is out and looking good.
In the minute-long clip, Shah Rukh Khan's Jahangir Khan shares his thoughts on emoting and how crucial it is to have a stress-free life. He also points out that because most of us have been asked to suppress feelings as a kid — anger, sadness and such — it gets difficult when the time arrives to express love.
Meanwhile, Alia Bhatt's Kaira, an up-and-coming cinematographer, is shown to be dealing with broken relationships in her own ways. At a recent magazine cover launch, Bhatt said she relates to the character but at the same time, she isn't quite like her. "Getting pissed off with relationships, there is a dialogue in teaser 3, where I say 'I hate couples'. That happens," she added.
Scheduled to be released on November 25, Dear Zindagi also stars Kunal Kapoor, Aditya Roy Kapur, Ali Zafar and Angad Bedi in key roles. Jointly produced by Red Chillies Entertainment, Dharma Productions and Hope productions, the slice-of-life film has been shot extensively in Goa.
Meanwhile, here's what the social media users have to say about #DearZindagiTake4:
Syed Aamir Shah: This just keeps getting better! Lovin' it. #DearZindagiTake4
Hend Mohamed Saad: @iamsrk Thank you for Jug #DearZindagiTake4
Nabanita Bose: #DearZindagiTake4 This movie will surely help us with lot of confusions we face in our love life. Love you Shahrukh
Svetlana: @iamsrk your words SRK always reach the heart... emotional promo #DearZindagiTake4 #DearZindagi
Mobashira Fatima: @iamsrk U and your voice made #DearZindagiTake4 more beautiful.
ֆռɛɦǟ ♥ ʀʊᏦɦ ♥ Ꮶɦǟռ: @iamsrk loved it this film is gonna help us to take decision of life in a wiser & happier way thank u for guiding :') #DearZindagiTake4
PoojaTwèétŚ: @iamsrk loving every sound, word, music, & dialogue so far. Cannot wait for the movie #DearZindagiTake4 #DearZindagi @RedChilliesEnt