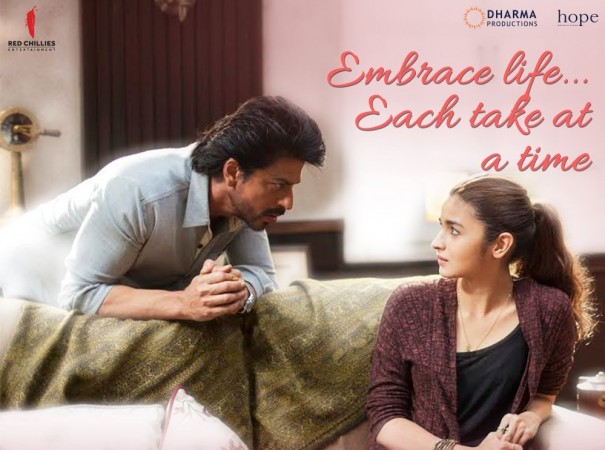 Alia Bhatt and Shah Rukh Khan-starrer Dear Zindagi, which was released on Friday, November 25, has received overwhelming reviews from critics.
Directed by Gauri Shinde, Dear Zindagi has been making a tremendous buzz as it has a unique star cast combination of Shah Rukh and Alia. This is the first time the two actors will be sharing screen space. The movie has impressed critics and audience alike. They claim it to be a refreshing and light-hearted film with a positive message.
Dear Zindagi special screening| Dear Zindagi promotions| Dear Zindagi movie poster
The storyline and Alia and Shah Rukh's power-packed performances have wowed the viewers. With such massive response, the film will surely make movie-goers throng into the theatres despite the demonetisation drive.
Dear Zindagi revolves around a budding cinematographer Kaira (played by Alia) who meets Jehangir Khan or Jug (played by Shah Rukh). Jug is a psychiatrist and helps a heartbroken Kaira gain a new perspective on love and life. Produced by Red Chillies Entertainment, Dharma Productions and Hope Productions, Dear Zindagi also stars Kunal Kapoor, Ali Zafar and Aditya Roy Kapur.
We bring you some critics' verdict for the movie. See the comments below in the Dear Zindagi review round-up:
Manjusha Radhakrishnan of Gulf News said: "The tale of a twenty-something cinematographer, Kiara (Alia Bhatt), who's undergoing a crippling quarter-life-crisis, is joyously entertaining. If you are looking for a heartwarming, sensitive film about troubled twenty-somethings, then make a date with Dear Zindagi. You won't live to regret it."
Meena Iyer of the Times of India said: "Feisty Alia, one of the better actors of the current generation, turns in a nicely nuanced performance. And SRK in his sober-avatar possessing infinite gyaan tempts you to seek out a therapist. If you're in the mood to do some soul-searching this weekend, this film could do it for you."
Ananya Bhattacharya of India Today said: "Gauri Shinde does a half-decent job with Dear Zindagi. The director, whose English Vinglish was a landmark film and did not leave you without a smile or a tear, seems oddly laid-back in Dear Zindagi. Maybe we began expecting too much from Shinde after her first film.Watch the film for Alia Bhatt and Shah Rukh Khan. It's an emotional joyride which won't harm you when watched once."
Mayank Shekhar of Mid-Day said: "The theme is totally relevant. The perspective, since female, is relatively unique. Alia plays a 'filmmaker type' herself, doing the serious grunt work — something we hardly acknowledge about women (or men) in showbiz. This is true for the director (Gauri Shinde) of this movie, of course. There is a touch of semi-autobiography in there.It just appears as if the film's unable to find a point, place a nail there, and just hammer it in. Which was so not the case with Shinde's masterstroke, 'English Vinglish' (2012)."
Surabhi Redkar of Koimoi said: "Dear Zindagi has its heart in the right place, it just gets stuck in the rut. Alia Bhatt is talented no doubt and gives a measured performance in this film. Shah Rukh Khan as the uber cool shrink, Jug is simply adorable. After a film like English Vinglish, expectations from Gauri Shinde were sky high. The simplistic charm of Gauri's filmmaking in her debut is lost to glamour and crowd pleasing tricks with this film. Dear Zindagi stretches unnecessarily and should have been wrapped up in two hours considering its content. Dear Zindagi meanders through many nothings to say something."
Rohit Bhatnagar of Deccan Chronicle said: "One film old director Gauri Shinde's Dear Zindagi is a slice of life film but you might or might not connect with it. Dear Zindagi is definitely a one time watch this weekend but enter the theatre at your own risk since the journey of Kiara may hit you or it may pass by without even moving you. Watch this film only for amazing performances and nothing else."
Sweta Kaushal of Hindustan Times said: "The screenplay and dialogues, however, stop the film from being magnificent. If only Gauri brought better-etched characters and delved more into the emotional turmoils of her lead, this could have been a wonderful "slice-of-life" film with several messages to be lauded for. What she ends up with is a "could-have-been-amazing" film."