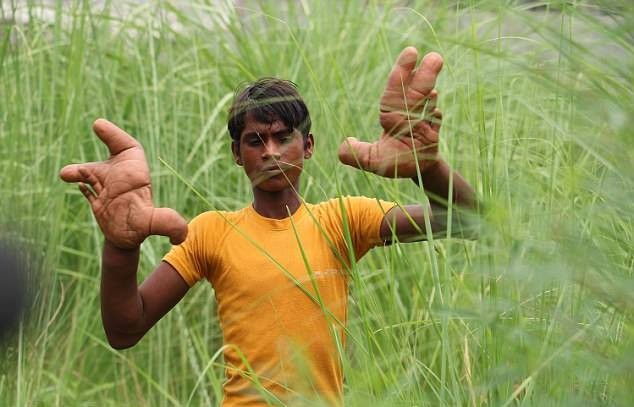 A 12-year-old boy from Uttar Pradesh is called 'devil' due to his 'big hands'.
Tarik, who works in a tea stall and lives with his older brother, has 12-inch long hands. The condition comes in the way of basic tasks like bathing, dressing and eating. Hargyan, his brother, takes care of him.
Pushpa, Tarik's aunt, told ANI that the 12-year-old's hands were always big and "as he started growing, his hands got bigger" too.
"When his father was alive he took him to the local doctors a lot. But his father passed away and he only has his mother now, so he can't get any treatment," the aunt added.
Tarik's neighbours believe his condition is a curse and calls him a "devil".
"They don't know it's a medical condition and it can be cured," Tarik said adding that he wanted to study but school authorities refused to give him admission.
"His hands are really big. I have never seen such big hands in my life. He is stuck in his life. He can't even change his clothes. I have to look after Tarik... Sadly that has resulted in Tarik being bullied by his neighbours and friends.He was also refused admission to school," Hargyan was quoted as saying by Mumbai Mirror.
Doctors have not been able to diagnose his condition yet.
Dr Pawan Kumar Gandhi, who visited him recently, told ANI, "Tarik's problem is actually a mystery to us. We've never seen a patient with this before. I have seen a few similar cases but they had Elephant Foot disease, his condition seems to be similar to that."
"Every single doctor suggested getting Tarik a proper treatment. But for us there is no way. He has to stay like this till we have some money for the treatment," the brother said.