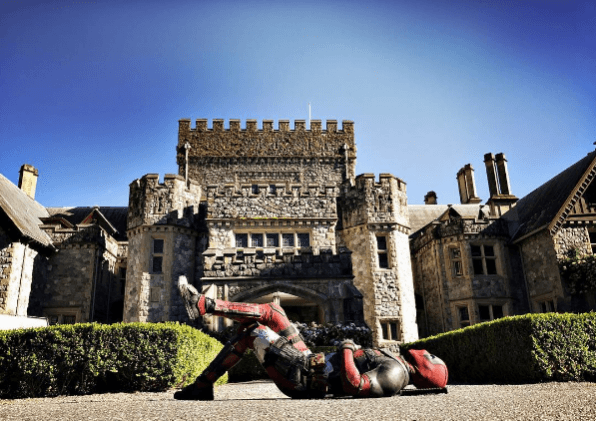 Deadpool 2 has wrapped the shooting as confirmed by its cast and crew. The filming of Deadpool sequel produced by 20th Century Fox got completed in Vancouver. The team of Ryan Reynolds starrer officially announced the news on various social media platforms.
Treating fans, Reynolds shared a few behind-the-scenes pictures and dropped an Easter egg of sorts as he revealed a breathtaking image of Josh Brolin in his Cable avatar.
Also Read: Deadpool 2 stuntwoman dead: Who was she and how did she die?
But it was the caption that caught more attention. While fans know the movie is called Deadpool 2, the Wade Wilson actor made up a fictional movie title that fans completely dig.
According to the actor's 'reveal', the film is called Deadpool 2: A Song of Fire and Ice. He wrote:
"That's a wrap on DEADPOOL 2: A SONG OF FIRE AND ICE! Thank you to our beloved Captain, Mr. @davidmleitch [director David Leitch]... words are too clumsy to properly acknowledge your giant heart and talent. I love my hometown of Vancouver and our obscenely gifted crew."
He also teased that the film is loaded with Easter Eggs and fans are going to have fun watching it. Thanking his crew he wrote, "From our PA's, (who are first in and last out) to our set decorators and prop department, riddling this film with Easter Eggs in almost every scene... Thank you." (sic)
And then, in complete Reynolds style, he added, "I already miss being on set. Which is why I've decided to continue shooting the film in my underwear from Josh Brolin's well-appointed living room."
In the series of pictures, the actor shared an image taken with the director; posing with a young fan dressed in the Deadpool costume; two images of katanas with Arthur and Bea engraved on it; an image in the Wade Wilson make up with his crew and others.
But the picture that featured Avengers actor Brolin was the one that stood out. The Cable star was seen screaming to his mirror image. The cracked mirror, bruises on his face and the shot overall looked like an intense break-down state captured on camera.
Though no explanation is shared regarding the image, fans will have to wait to until June next year to find out what was happening in that shot.