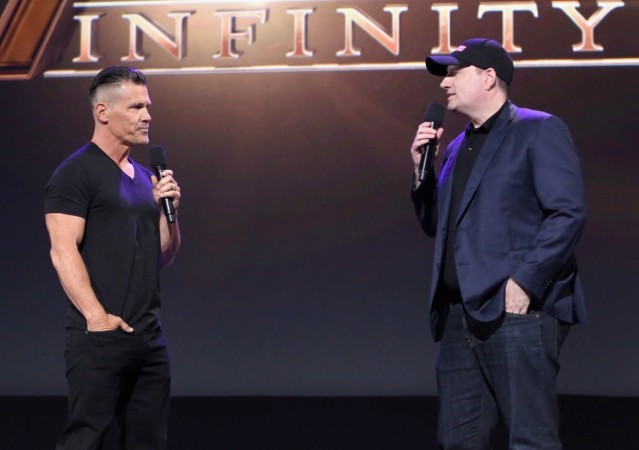 This is an epic week for comic/superhero movies. With Disney's D23 concluded over the weekend, the DC, Marvel, Fox and other studios are charging towards the San Diego Comic-Con to reveal first looks and spoilers. However, it looks like Josh Brolin is impatient ab he has already begun teasing out his movie and has begun teasing Deadpool 2 already.
The actor, who was a part of D23 to reveal the first look at Thanos in Avengers: Infinity War, has dropped a few spoilers regarding the Deadpool sequel. Talking to Good Morning America, Brolin said that Cable might take a dig or could make remarks to Thanos from the Avengers franchise, like Deadpool does with regard to Wolverine.
Also Read: D23: Star Wars, The Lion King, A Wrinkle in Time and many other FIRST LOOK drop at Disney event
Repeating the interviewer's question, he says, "Do I talk about Thanos in Deadpool? Not yet. But again, I may. I don't know." However, in an attempt to keep the buzz, he goes on to say, "It's not that I don't break the fourth wall. There's a lot of stuff going on in Deadpool, it's very surprising and it will be very satisfying when you see it."
Revealing more about Deadpool 2's guarded script, the actor admitted that the sequel is funnier than the first one. "I read it and I laughed harder than I've laughed in a very long time, so it's funny," Brolin shared.
Sharing a little more about Cable's role, he also shared that different shades of Cable will be seen in the movie and his funny side will be one of them.
With the ongoing hashtag battle between the Cable actor and Deadpool's Ryan Reynolds reaching an all time high (or low?), the comedy timing and punch dialogues will be worth the wait. Deadpool 2 is being filmed in Vancouver at the moment and is slated to release on June 1, 2018.
The first look of the movie or a series of reveals are expected to drop at SDCC 2017. The most anticipated Comic-Con of the year begins this Thursday.