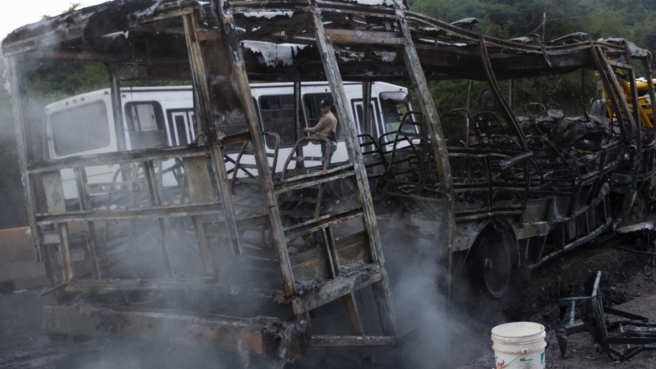 At least 35 people were charred to death when two passenger buses collided with two trucks in Pakistan's Balochistan province on Saturday, reported Geo News.
The incident reportedly took place near Gadani Mor on Quetta-Karachi RCD Highway in the Balochistan province at around 6.30 a.m. on Saturday. According to reports, one of the passenger buses bound for Karachi collided with a truck coming from the opposite direction. It is being said that the bus was carrying smuggled oil on board.
The vehicles exploded triggering a huge fire which engulfed a total of two buses and two trucks. At least 35 people, including women and children, were charred to death in the accident. As many as 15 people were injured and were admitted to the Jam Ghulam Qadir hospital in Hub city. Several of them are said to be in a critical condition. The death toll is expected to rise, as many of them are suffering from severe burn injuries.
The bodies of the deceased have been charred beyond recognition. Sources told The News International that the DNA samples of the victims will be sent to Islamabad to get their identities confirmed.
Balochistan chief minister Abdul Malik Baloch has ordered an inquiry into the deadly RCD Highway traffic accident and has sought the report to be submitted immediately, reported The News International.
The chief minister has also expressed his grief to the family members of victims, said the Provincial government spokesman. The spokesperson has also said that the government will compensate the victims' families, reported the National Turk.