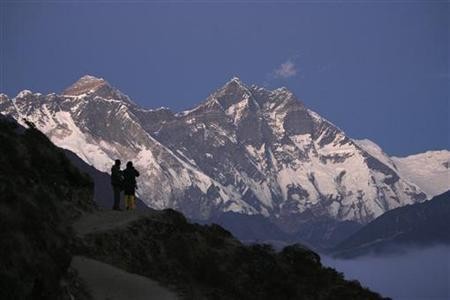 In an attempt to foster tourism, a monument from the rocks of the Dead Sea was set up at the foot of Mount Everest on Thursday, reported Press Trust of India.
The monument comprising two stones from the Dead Sea, the Earth's lowest point, was set up near Mount Everest, the highest portion.
Israeli artist Jojo Ohayon crafted the monument as a mark that connects the two popular tourist spots.
The move to link the world's highest and lowest points will be completed when rocks from Mount Everest will be set near Dead Sea on 16 May.
"We are very happy to announce that the monument of Dead Sea has been placed on top of the world," said Israeli Ambassador to Nepal, Hanan Goder.
"We need to save the environment in the Himalayas as well as the Dead Sea, to check the impact of climate change, and the monuments will spread the message about this."
The exchange of monuments between the two countries is seen as a friendly attempt at promoting culture and tourism.
In 2012, Israel and Nepal had released postage stamps of Dead Sea and Mount Everest to commemorate 50 years of diplomatic relations.
The installment of the monument near the world's highest peak comes at a time when the government is commemorating the 60th anniversary of human ascent to the mountain.