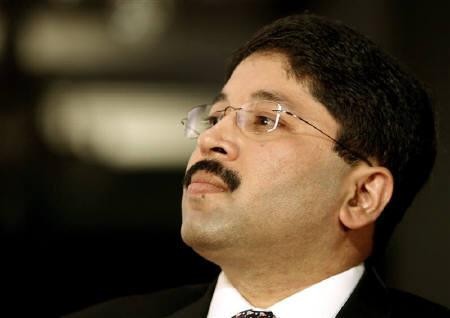 Former union telecom minister Dayanidhi Maran had pressurised telecom promoter C. Sivasankaran to sell his company to Malaysia-based Maxis by keeping his spectrum licence pending, a Delhi court stated on Thursday.
The Central Bureau of Investigation (CBI) told Special Judge O. P. Saini that Dayanidhi had forced Sivasankaran to sell Aircel by keeping his spectrum licence pending in different circles.
The CBI said as soon as Aircel was purchased by Maxis, all the pending spectrum licences of the company were cleared.
The CBI's submission came while apprising the court about recently filed charge sheet against Dayanidhi, his brother Kalanithi Maran, Malaysian business tycoon T. Ananda Krishnan and five others in the Aircel-Maxis deal case.
The court set 22 September as the next date of hearing.
The CBI said there was sufficient evidence to prosecute the accused involved in the case. The CBI has booked all the accused under charges of criminal conspiracy and provisions of the Prevention of Corruption Act.
The CBI has alleged that Dayanidhi used his influence to help Krishnan to acquire Aircel by allegedly coercing its owner Sivasankaran to part with stakes.
It was alleged by Sivasankaran that Dayanidhi favoured Maxis Group in the takeover of his company and in return the company made investments through Astro network in a company stated to be owned by the Maran family.
Four companies - Sun Direct TV Pvt. Ltd., Britain-based Astro All Asia Networks Plc, Maxis Communications Berhad in Malaysia and South Asia Entertainment Holdings Ltd. in Mauritius - have been also named in the charge sheet.