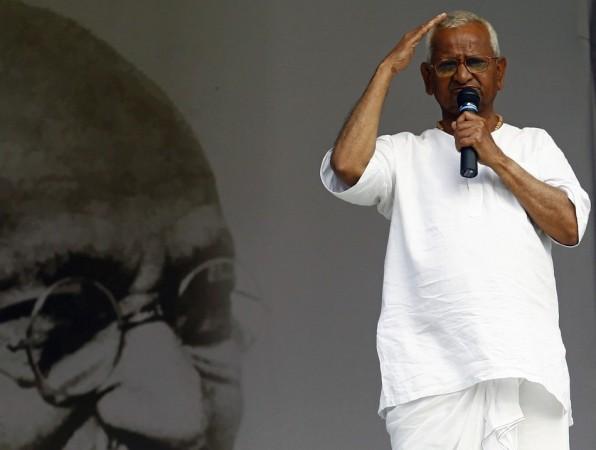 Team Anna's indefinite fast entered day two on Thursday with a lukewarm public response hinting at the possibilities of it turning into another flop show akin to last year's Mumbai debacle.
Team Anna core committee member Arvind Kejriwal on Wednesday began the fast unto death protest demanding an independent probe into their allegations against 14 UPA cabinet ministers, including Prime Minister Manmohan Singh and President Pranab Mukherjee.
Anti-corruption crusader Anna Hazare is expected to go on hunger strike from Sunday, citing the same demands, in spite of doctors' advice to not to fast considering his poor health.
CNN-IBN reported that a poor congregation of around 500 people showed up on the Team Anna's fast venue in Delhi, Jantar Mantar, on day two of the protest. Most of those who attended were volunteers and belonged to social groups.
The latest Team Anna's fast was expected to draw high gatherings to the protest venue. A year ago Anna Hazare led a protest demanding for an effective Lokpal Bill, attracting a large spectrum of people across the country. The demonstration also forced the government to look into Team Anna's demands to some extent.
However, fast at Mumbai's MMRDA grounds led by Anna in December last year was called off midway, noting the bleak public response and the 75-year-old Gandhian's ill health.
Early this week, Kejriwal addressed a public gathering and called upon supporters for a 'do or die' protest.
"We will start a fight to finish. This time around we are not going to give up our fast just on assurances. We will continue our fight until our demands are met," he said.
Kejriwal is slapped with a defamation suit after he allegedly called Members of Parliaments as "criminals and rapists". Sources said that he left for the court in Uttar Pradesh to attend the hearing against his remarks on politicians, and will join the fast later in the day.
Meanwhile, India Against Corruption activities continued to observe the protest at respective cities across the country.