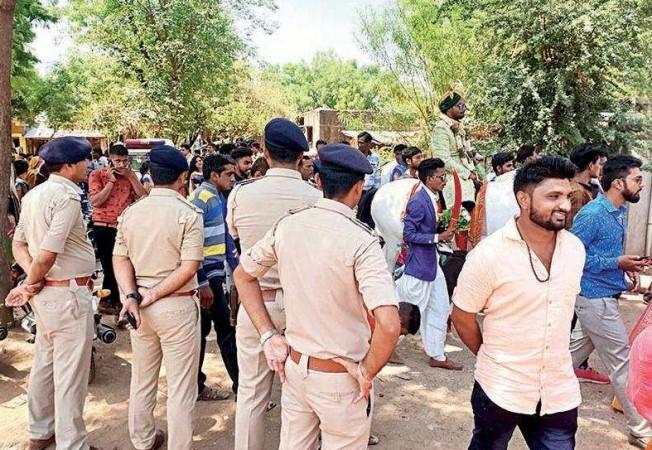 Just a day after stones were hurled at a Dalit community by the upper castes at Khambhisar village of Gujarat's Aravalli district for riding a horse as part of the marriage cavalcade, the procession was continued on Monday with tight security arranged by the police.
The wedding procession of a Dalit youth, Jayesh Rathod, was interrupted by the upper caste, mainly Patidar community on Sunday and was discontinued after they threw stones at the groom and the people gathered unleashing major violence leading the police to resort to lathi charge.
According to the police, nearly 300 policemen were deployed for a stretch of nearly 20 km from where the marriage procession started to protect more than 300 relatives of the groom.
The Superintendent of Police of Aravalli, Mayur Patil, said that he held a meeting with the villagers of the upper caste community on Sunday night to broker peace between the communities over the cavalcade. "We had deployed 100 policemen from various areas of the district. One company of the State Reserve Police (nearly 120 personnel) had also been deployed in view of the tension. Besides, there were about 50 policemen from the neighbouring Sabarkantha," he said, reports Deccan Herald.
The villagers from the upper caste community allegedly objected to the Dalit youth riding on horseback. They tried to block the road by performing "poojas" (Hindu rituals) to block the procession on Sunday. Many of the police officers were injured on Sunday's stone pelting.
According to reports, the grooms family will file a formal complaint after the wedding ceremony is completed. "At present, our priority is to maintain law and order and bring social harmony back to the village," he said, reports Indian Express.