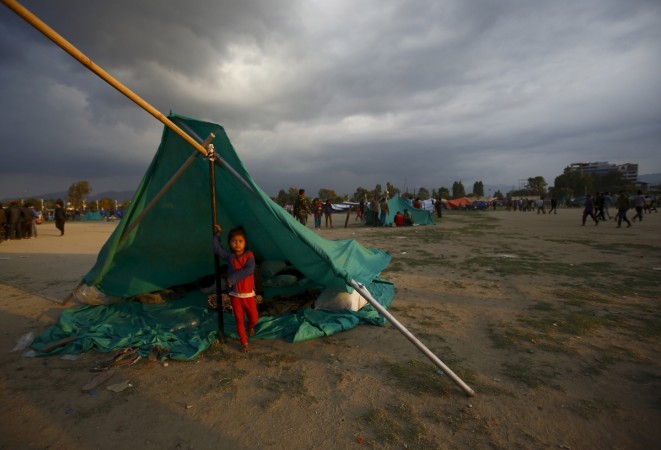 Three days after the massive 7.9 magnitude earthquake, Nepal has been jolted by several aftershocks, including one on Monday night, leaving thousands of survivors stranded out in the open to spend cold and rainy nights in plastic tents. Additionally, the shortage of relief materials has worsened conditions.
"There have been reports of dwindling supplies of water and food, power outages, and downed communication networks," The Guardian cited an excerpt from UNICEF's statement on Nepal earthquake that hit the country on Saturday killing over 4,400 people and injuring more than 6,500.
"Hundreds of thousands of people spent the night sleeping in open areas, out of fear of more tremors. Heavy rain is now also reported which can further worsen the conditions," the statement added.
The survivors who were initially receiving relief aids are now facing shortage of water and food, while those left homeless in remote areas are said to be completely devoid of any basic necessities as the rescue teams are finding it difficult to reach them.
Though several countries from across the world have lent a helping hand to the devastated country, the Himalayan nation is struggling to move food, water and medicines to the worst affected remote areas.
"We are appealing for tents, dry goods, blankets, mattresses, and 80 different medicines ... that we desperately need now... We don't have the helicopters that we need or the expertise to rescue the people trapped," member of Nepal disaster management agency Deepak Panda said.
UNICEF said that the natural disaster has affected children the most, as at least 9,40,000 of them need immediate humanitarian assistance, especially those forced out on the street after their homes were reduced to rubbles following the earthquake.
"This crisis leaves children particularly vulnerable – limited access to safe water and sanitation will put children at great risk from waterborne diseases, while some children may have become separated from their families," UNICEF said in the statement.
Several international relief agencies fear that water-borne diseases would now take the quake-survivors in its clutch as thousands of them are staying in open air in the rain.
Aids from across the world
Ever since the massive earthquake hit the Himalayan nation, India has been assisting its neighbour with humanitarian relief and in rescue and rehabilitation of survivors.
As the situation started worsening following over 60 aftershocks, India upped its relief and sent medical aid along with its security personnel for rehabilitation and evacuation of people from remote villages.
China too has sent a medical team along with a team of experts to help rescue people feared to be trapped under the rubbles. Medical assistance has also been sent by Nepal's neighbour Bhutan, while Russia, Japan, France, Switzerland and Singapore are in the process of sending medical and rescue teams to Kathmandu, according to US News.
Britain has offered £5 Million for relief and will soon be sending an RAF transport plane with Gurkha engineers, over 1,100 shelter kits and more than 1,700 solar lanterns along with medical supplies to Nepal. Australia and New Zealand will also be sending rescue teams soon.
United States on the other hand has pledged $10 Million to Nepal and has on Monday sent its personnel along with relief supplies to Nepal.
Japan is sending $8 million to Nepal and Norway has promised $4 million for disaster hit country. Germany and Spain too are lending out helping hands to help the Himalayan nation to bring the life of its citizens back to normalcy.
Besides, United Nations has allotted $15 Million from the central emergency response fund, according to the Associated Press.