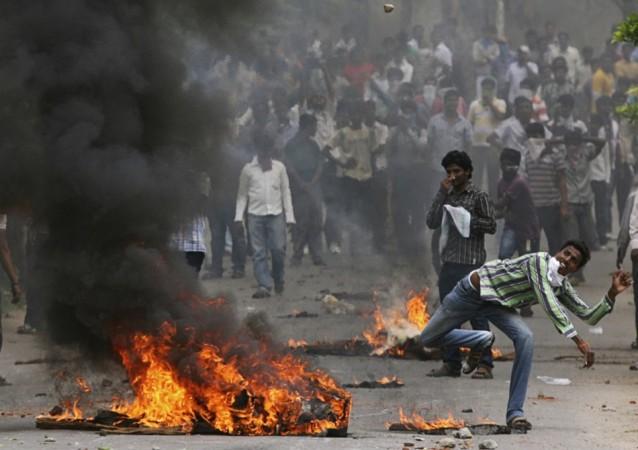 As the ongoing Telegana "People's strike" entered the 17th day, the intensity of the strike and the loss to social and economic condition has increased.
In a recent development, the JAC (Join Action Committee) has seized the residences of Congress ministers and legislators in Hyderabad.
"Raising slogans of 'Jai Telangana,' leaders and workers of the Telangana Rashtra Samithi (TRS), the Bharatiya Janata Party (BJP) and other constituents of the JAC laid siege to the houses of public representatives," reports DNA.
In another development 32 Telugu Desam Party (TDP) MLAs from the region resigned from Andhra Pradesh Assembly demanding a separate state.
Public transport and power production have shut down due to the ongoing stir which was launched by JAC on Sept. 13, demanding separate statehood for Telangana.
Meanwhile, newspaper hawkers, vendors, teachers and lawyers have joined the strike in support of a separate statehood.
According to media reports, the administration remained paralyzed in the region as over 400,000 government employees stayed away from offices. As the protests turn violent, the ongoing 17-day long agitation has hit businesses across the state. Industries have suffered with reports putting per day losses at over Rs 100 crore.
Media reports that the coal production in Singareni mines spread over four districts in Telangana remains crippled. The state-owned Singareni Collieries have so far suffered a loss of more than Rs 500 crore due to the strike by the majority of its 70,000 workers.
Over 10,000 buses of the state-owned Road Transport Corporation (RTC) remained off the road across the region as employees continued the strike.
The governance in the state has been affected as the employees held a demonstration and demanded to close down the state secretariat, which is the seat of governance.
Meanwhile, the state government has deployed Rapid Action Force (RAF) and Police personnel at the secretariat to ensure smooth governance in the state. Tight security arrangements were also made at the Vanasthalipuram neighbourhood, where Telangana protestors have been trying to stop buses carrying employees to the secretariat.
"Prime Minister Manmohan Singh and UPA chairperson president Sonia Gandhi must resolve the issue otherwise it would spiral out of control," said Telangana Rashtra Samiti chief, K. Chandrashekhar Rao, calling for an immediate intervention by the central government.