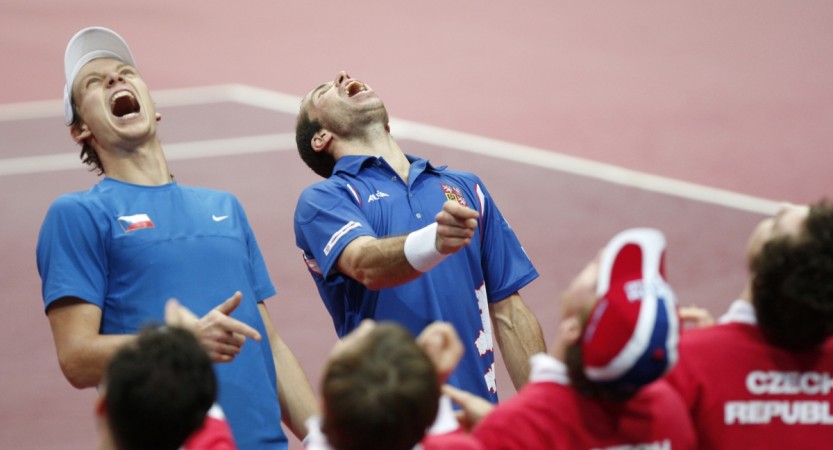 As nine time champions France look to make it to their first Davis Cup final since 2010, it is the Czech Republic, who stand in their way on Friday, at the Roland Garros, Paris.
The Czechs, who themselves have won the title three times, are pinning their hopes on the likes of Thomas Berdych and veteran Radek Stepanek, to take them up to the semi-finals of the tournament. Meanwhile, France seems to have put more responsibility on the shoulders of the 28-year-old Richard Gasquet, who is currently 21st on the APT singles rankings.
Normally it is 18th ranked Gael Monfils, who starts in the first game. However, sources say that he is jetlagged from his lengthy trip, after a successful season in the US, and has asked the team not to play him in the first game. Hence, Captain Arnaud Clement decided that Gasquet should play in the first game.
"This is not a personal decision. It's a team decision," Monfils was quoted saying, at Thursday's draw ceremony, by ESPN. "They asked me how I felt and I told them it would be better if I was not selected for the opening match. We are lucky enough to have a great reservoir of good players."
Even the Czech Republic threw up a surprise, by pitting Lukas Rosol up against the 12th ranked Jo-Wilfried Tsonga, in the second singles match of this quarterfinals tie. Everyone was expecting a mouth-watering match between the powerful Tsonga, and the cunning Stepanek. Most of the responsibility of the Czech team falls on the shoulders of Stepanek, and it is broadly expected that they would pit their ace player to undo the powerful Frenchman. However, Rosol has been pitted against him.
Interestingly, both France and the Czech Republic have given a lot of responsibility to the two unexpected players – Gasquet and Rosol, as these two faces off against each other in the final match-up of the tie.
The tie might have been already decided, by the time these two have to take to the field again. However, with the kind of firepower that France has, and the kind of trickery and guile that the Czech has, it seems highly unlikely that the tie would be decided before the fourth game match at least.
Now, the fourth match of the tie is just the kind of mouth-watering match that the fans were expecting – Tsonga against Berdych. Both have done reasonably well in the recently concluded US Open, with Tsonga losing out in the 4th Round to Briton Andy Murray, while 6th ranked Berdych reached the quarterfinals of the tournament losing to eventual champion Marin Cilic.
Where to Watch Live
The Davis cup tie is all set to start at 1.45 pm IST (8.15 am GMT, 4.15 am EDT), on Friday. Watch the game live HERE and HERE.