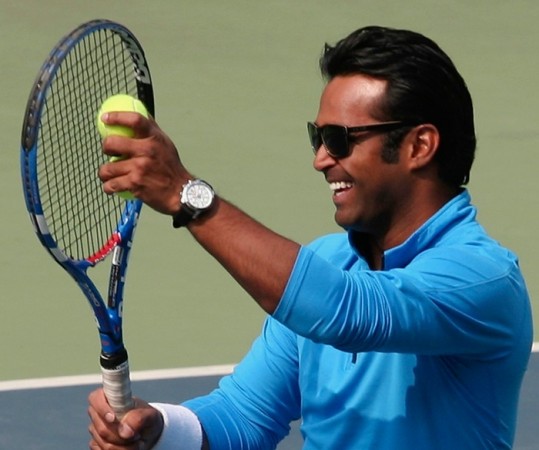 Two sets down, a break down in the third set, trailing by 2-0 in the tie, India were down and out, with even the most optimistic of people in the world shaking their heads in despair. But then came the mother of all comebacks, filled with remarkable tennis shots, unbelievable grit and even better skill, a comeback which not only kept India in this Davis Cup World Group playoff tie against Serbia, but gave them that hope, and that impossible is indeed nothing.
In an epic, stunning, ridiculously entertaining five-set battle at the KSLTA Stadium in Bangalore, Leander Paes and Rohan Bopanna refused to go anywhere near the word quit to pull off an awe-inspiring 1-6, 6-7 (4), 6-3, 6-3, 8-6 victory over Serbia's Nenad Zimonjic and Iliya Bozoljac.
"I love playing for the blue, that's what I play for," said an extremely emotional Paes to DD Sports. "I play for the country and it is one of the biggest joys that I can have. I love playing for India.
"Bopanna kept on playing, kept on going for his shots and I keep telling you, this team can go a long way and win medals in the Olympics. To come from two sets down like that was amazing."
This win keeps the Davis Cup tie alive, with India pulling a match back to 2-1, making the singles rubbers on Sunday a lot more interesting.
"This is remarkable, we were two sets down, 3-2 down," said India captain Anand Amritraj. "But they got some magic, some fire and came back. It was absolutely incredible.
"Leander was great all the way through. Held the team together, never made any mistakes and Bopanna came to his own in the last two sets."
The tie looked like it would be a boring one, actually, heading into the final day, with Paes and Bopanna struggling against the power and experience of Zimonjic and Bozoljac, with the Serbian pair absolutely cruising through the first set to quieten the crowd that had come to see their players go winners-crazy right from serve one.
The second set was a lot closer, but still, you always felt the Serbian pair were the stronger ones, with Paes and Bopanna just not finding their groove. Serbia kept targeting Paes' serves, knowing fully well Bopanna's real strength lies in those booming smashers, and even though the Indian pair took the second set to the tie-breaker, there only looked like being one winner.
Having coasted through 7-4 in the breaker, the force was completely with Zimonjic and Bozoljac, and an early break in the third set only emphasised that fact.
However, if there is one thing that you know about Paes, it is that he never quits, and with the Kolkata veteran egging on his younger compatriot, India showed some amazing fight to claw their way back from 3-2 with a break down, to level it at 3-3, before another break, a couple of games down the line saw them storm back into the match.
Momentum is a crazy thing in tennis – you think you have it sealed in a bottle with no chance of escape, and yet it finds a way out and moves to the other side. And after the third set victory, momentum switched sides quickly, with that wonderful word taking camp on the Indian side.
A break in the first game of the fourth set gave India further impetus and slowly but surely they started taking control, with those chest bumps, which was a trademark of Paes and Mahesh Bhupathi, coming in to further encourage the crowd, who came in their numbers and played their part brilliantly.
"We wanted to get the crowd going, and get them on our side," said local boy Bopanna, who was awarded the Davis Cup Commitment Award just before the match for his services to the country. "Once we got the break, we got the momentum going."
Boy did they get it going as the fourth set came India's way, and Serbia struggled to find their rhythm. Zimonjic and Bozoljac refused to just wither away, though, as the final set kept going on and on, with neither team letting up on their serve.
However, just like in the second set, when Serbia always looked in control, it was India now who seemed stronger, with the team also helped by the fact that they were serving first in the final set.
Having held for 7-6 – the match had to be won on advantage with the final set not going to a tie-breaker – Zimonjic, one of the best doubles players in the world, just failed to cope with the pressure, with that crowd on his back and a fired up Indian duo at the other side, to hand the home side a stunning win.
It's is now over to India's singles players Somdev Devvarman and Yuki Bhambri to pull a couple more rabbits out of the hat, with the former opening up Sunday with a match against Dusan Lajovic.
"We're still 1-2 down," warned Amritraj. "The fact is Somdev has to come and play Serbia's number one guy. It is not going to be easy. But knowing Som, I know he will give it a 110 percent."