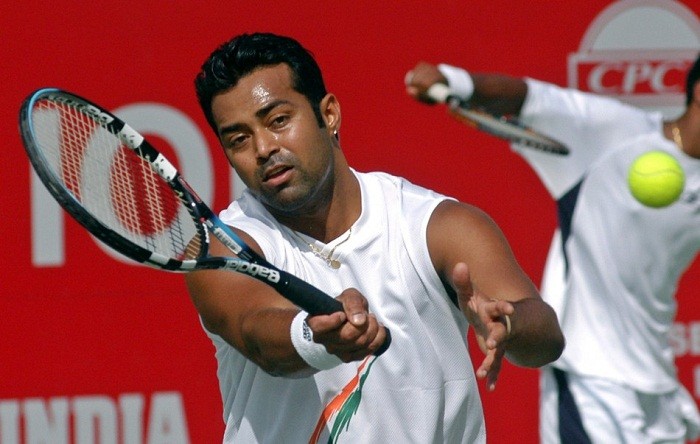 Tennis ace Leander Paes has reportedly teamed up with Rohan Bopanna for the doubles challenge in the Davis Cup tie against Serbia.
Indian Captain Anand Amritraj confirmed Paes' participation in the Davis Cup on Sunday. However, he also stated that Asian Games squad has not been decided yet.
"Yes, Leander will play with Rohan in the doubles," Amritraj told PTI.
"It was Rohan who approached Leander first and then I got in touch with him. I spoke to him and he agreed to play."
Paes was not named in the squad initially as he said he would like to be excused from national duty because he had prior personal commitments. Paes is doing court rounds in a custody battle for his daughter Aiyana with his estranged partner Rhea Pillai and the case reportedly has a hearing again on Friday.
Davis Cup is scheduled to be held in Karnataka State Lawn Tennis Association from 12-14 September.
Bopanna is happy about Paes' participation in the tournament and said it would be a "pleasure" for him to play with him.
"We have been in discussion for the past few months and were looking for the opportunity to play together for the country. Leander brings a tremendous amount of experience to any partnership," Bopanna said.
"Since he has been ranked as high as number 1 in the world and I have been ranked number 3, I am confident that we will be a formidable team.
"I am sure there is going to be some great, exciting tennis over the weekend and I hope we are the strongest team out there," he added.
Meanwhile, Paes agreed to play in the tie as he sees this opportunity as one that can put India in the World Group.
"I had some personal stuff to take care of but this chance to put India into the World Group has come after a long time and I want to do all that I can to help. I can't let the team down," Paes told the Hindu.
"The captain said that the boys really wanted me to come on board. He outlined his strategy of taking on Serbia and I figured I must do my bit."
The addition of the 41-year-old will sideline initially selected Saketh Myneni, who made his Davis Cup debut early this year. He will be reserved for the team along with Jeevan Nedunchezhiyan and Ramkumar Ramanathan. On being asked about Myneni's reaction, Amritraj replied he is fine with the decision.
"He's absolutely fine. I have spoken to him. He had a rough idea that it might happen," he said
On being asked about the Asian Games squad, where the top Indian players intend to pull out, the captain rubbished reports saying nothing has been decided as yet.
"It's still the same. Rohan, Leander, Sania (Mirza) are still there in the squad. I have a meeting with AITA officials and we will decide about it later, there's no hurry," US–based Amritraj said.
"It's only Somdev (Devvarman), who has officially pulled out. Others are still in."
Asian Games dates are clashing with top international tennis events, due to which many players are considering pulling out to maintain their world rankings.