Davinder Singh Kang was reportedly disappointed when he finished third in Javelin Throw Asian Athletics Championships in Bhubaneshwar last month. The 28-year-old Indian Army Naib Subedar bagged a bronze while his younger compatriot and world junior champion finished on the top step of the podium with a throw of 85.23.
However, at the biggest stage -- London World Championships, the 19-year-old buckled under pressure, failing to meet the qualification mark of 83m in the qualifying round on Thursday, August 10. However, Davinder, the seasoned campaigner, helped raise quite a few eyebrows when he became the first Indian to qualify for the javelin throw final at the world meet.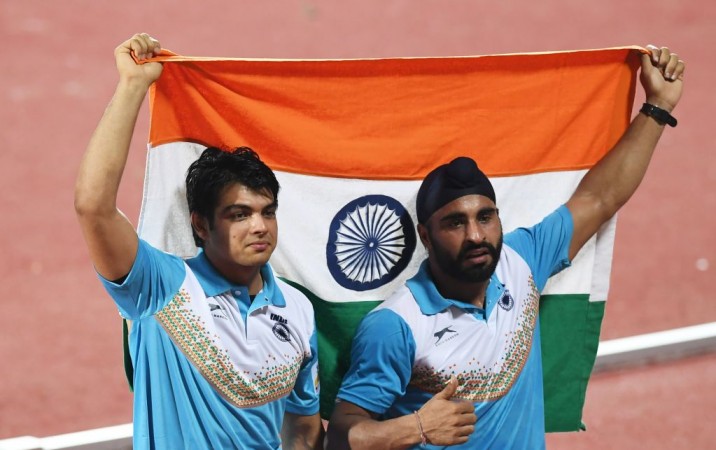 A determined Davinder, who wanted to make amends for his compatriot's loss, threw only sub-83m in his first two attempts. However, under pressure, he delivered big with an 84.22m throw that sealed him a spot in the 13-man final, scheduled for Saturday.
Who is Davinder Singh Kang: All you need to know about India's Javelin Throw finalist at World Championships
Davinder faces tough challenge
Davinder will face an uphill task in the final after qualifying seventh among the 13 finalists. His qualifying throw of 84.22m was close to his personal best of 84.57m, which he achieved in the first leg of India Grand Prix Athletics in Patiala earlier this year.
Davinder's throw was also better than reigning Olympic champion Thomas Rohler's effort of 83.87m in the qualifying round, but the German along with his compatriots Johannes Vetter and Andreas Hofmann have been in brilliant form this season and are looking set to clean sweep the Men's Javelin Throw event.
[Davinder's Javelin Throw final will begin on Saturday at 8:15 pm local time [12:45 am IST (Sunday)]. Check out live streaming information below.
Johannes Vetter and Andreas Hofmann have been in brilliant form this season and are looking set to clean sweep the Men's Javelin Throw event.
Rohler won the Olympic final with a 90.30m throw and the Bronze medalist Keshorn Walcott threw 85.38m.
Stat Alert: At the 2015 Worlds, the Gold medal-winning throw was 92.72m, while the Bronze medalist threw 87.64m.
Davinder's coach confident
While Davinder, who is carrying a shoulder injury, chances of finishing on the podium is bleak, the Punjab athlete has to better his personal best.
Davinder's coach Kashinath Naik though believes his ward has the ability to finish on the podium. According to him, the 28-year-old had been throwing 87m earlier this year.
"In January, during his training, he used to throw 87m regularly. So 90m is something which he can do. But, because of his shoulder, his throw is a bit less. But, in the final he will do better," Kashinath said, as quoted by Firstpost.
He added: "Even in the qualifying, two throws had fallen short. Now the pressure is tremendous on the last throw. But he can calm himself down and bring together the elements needed to get that distance."
Davinder determined
The pressure will be tremendous and not many athletes may even match their personal best in the final, but Davinder believes he has it in him to bring home a medal. The Punjab athlete, who was notified by the Athletics Federation of India over traces of marijuana in his in-competition sample, also wants to prove his critics wrong at the big stage tonight.
"I have a clear idea of what I am going to do. I will go all out from the very first throw. Just wait and watch, I can assure you that all my doubters and those who ridiculed me will be left with mouths wide-open after the finals. I really believe I can grab that medal," Davinder said, as quoted by The Indian Express.
Live streaming and TV coverage information
India: TV: Star Sports Select 2/HD 2. Live streaming: Hotstar

UK: TV: BBC. Live streaming: BBC iPlayer

US: TV: NBCSN. Live streaming: NBC Sports Live

Canada: TV: CBC. Live streaming: CBC Player

Rest of Europe: TV: Eurosport. Live streaming: Eurosport Live

Africa: TV: Supersport. Live streaming: Supersport online

Also on...