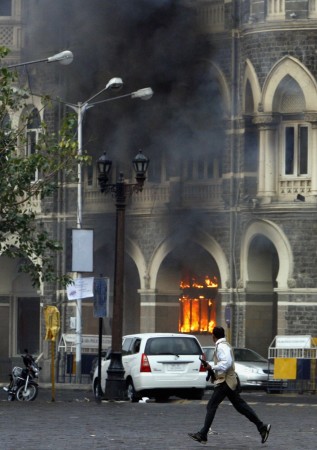 American-born Lashkar-e-Taiba terrorist David Headley on Thursday was sentenced to 35 years in jail by a US court for his role in the 26/11 Mumbai attacks that killed more than 160 people and injured over 300. Experts think he deserved the severest punishment given the magnitude of his offence.
The sentence was the maximum punishment sought by federal prosecutors. Many were surprised by the prosecutors' move to push for a limited-jail term instead of life imprisonment or death penalty for the 52-year-old LeT terrorist.
US District Judge Harry Leinenweber, who announced the sentence, also admitted that he deserved captial punishment.
"He commits crime, cooperates and then gets rewarded for the cooperation. No matter what I do it is not going to deter terrorists. Unfortunately, terrorists do not care for it. I do not have any faith in Mr Headley when he says that he is a changed person now. I do believe that it is my duty to protect the public from Mr Headley and ensure that he does not get into any further terrorist activities. Recommending 35 years is not a right sentence. I will accept the government motion 35 years and sentence of 35 years and supervised release for life," PTI quoted judge Harry Leinenweber pronouncing the sentence.
Eminent Public Prosecutor Ujjwal Nikam is also of the opinion that Headley escaped with a relatively light punishment for his heinous crime.
"This sentence to David Headley is very meagre, inadequate, insufficient, taking into consideration the role played by David Headley in the criminal conspiracy of November 26. Had he been in India definitely he would have been awarded death penalty," Nikam told ANI.
Indian lawmakers are not happy with the sentence of the 26/11 attack convict. External Affairs Minister Salman Khurshid said that Headley would get much severe punishment if he is tried in India, while Home Secretary RK Singh said that he deserved death sentence.
"We want death sentence for Headley and those who were involved killing of 165 people in Mumbai. We will keep asking for death sentence," CNN IBN quoted Singh as saying.
Prosecutors had earlier sought a jail term of 30 to 35 years for Headley and ruled out his extradition to India. They said that he provided critical information about various terrorist outfits to American investigating agencies.
Acting United States Attorney Gary S Shapiro stated that Headley shouldn't be given the death penalty for reasons that include his co-operation with the investigating agencies, his anticipated co-operation in the future and for pleading guilty.
Shapiro also told a Chicago court on Tuesday that Indian law enforcement officers had already interviewed Headley for a week and received useful information. The accused also agreed to co-operate with foreign judicial proceedings through video conferencing.
"As the Court knows, Headley's testimony helped secure a conviction against (Tahawwur) Rana. Further, Headley has agreed to provide truthful testimony in any proceeding in the United States if called upon by the United States Attorney's Office, as well as any foreign judicial proceeding held in the United States by way of deposition, videoconferencing or letters rogatory," said Shapiro in a 20-page submission.
Judge Harry Leinenweber had last week sentenced Headley's accomplice Tahawwur Rana to 14 years in jail after he was found guilty of providing material support to the Pakistan-based Lashkar-e-Taiba and supporting a terror attack plot in Denmark. The prosecutors had sought a 30-year prison term for him.
Both Headley and Rana were arrested in 2009 and the former had pleaded guilty to all the 12 charges that include helping the Lashkar-e-Taiba in terror activities and conspiring to bomb public places.