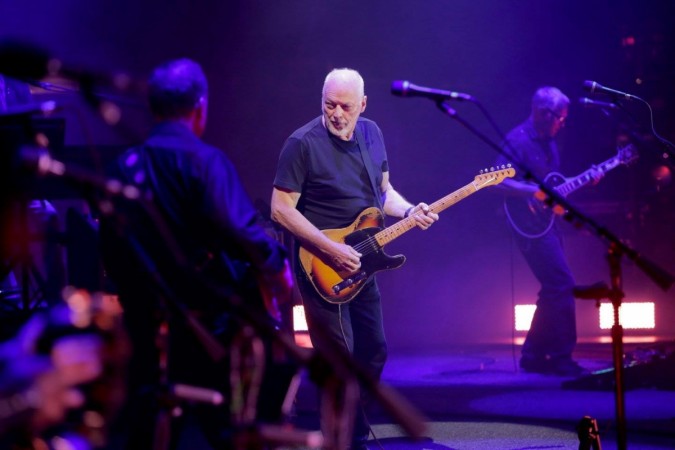 What many thought to be a distant dream has finally happened. Legendary guitarist David Gilmour performed "One of These Days," a Pink Floyd classic live on stage after 22 years. He played the song in front of a surprised audience during a show at Wroclaw, Poland, on June 28. This was also the first time ever that Gilmour played the song in his solo set.
During the show, the guitarist, who is currently on his "Rattle That Lock" tour, performed a mixed set of songs ranging from Pink Floyd classics, such as "Comfortably Numb," "High Hopes," "Wish You Were Here," "Coming Back To Life" and "Shine On You Crazy Diamond," along with well known tracks from his solo albums like "On An Island," "Rattle The Lock" and "Faces Of Stone." According to JamBase, he was accompanied by the NFM Filharmonia Wrocławska Orchestra, and a band that included Chuck Leavell of Allman Brothers Band fame, for the concert. (See the full setlist below)
The last time Gilmour was seen performing "One of These Days" was during Pink Floyd's final tour in 1994 after the release of their 14th studio album "The Division Bell." It is a song from Pink Floyd's 1971 album "Meddle," a record which is considered to have been the band's transition from the Syd Barrett-led era to the Roger Waters-led one. The song was written by Gilmour, Waters, Nick Mason and Richard Wright collectively.
Gilmour will be next seen performing at Pompeii on July 7 and July 8. He will play at the history town for the time since October 1971 when Pink Floyd filmed their famous "Pink Floyd: Live at Pompeii" concert. (See the full tour schedule here)
Watch the videos from the concert here.
David Gilmour's "Rattle That Lock" tour setlist:
1. "5 A.M."
2. "Rattle That Lock"
3. "Faces of Stone"
4. "Wish You Were Here"
5. "What Do You Want From Me"
6. "A Boat Lies Waiting"
7. "The Blue"
8. "Money"
9. "Us and Them"
10. "In Any Tongue"
11. "High Hopes"
12. "One of These Days"
13. "Shine On You Crazy Diamond (Parts I-V)"
14. "Dancing Right in Front of Me"
15. "Coming Back to Life"
16. "On an Island"
17. "The Girl in the Yellow Dress"
18. "Today"
19. "Sorrow"
20. "Run Like Hell"
21. "Time"
22. "Breathe (Reprise)"
23. "Comfortably Numb"