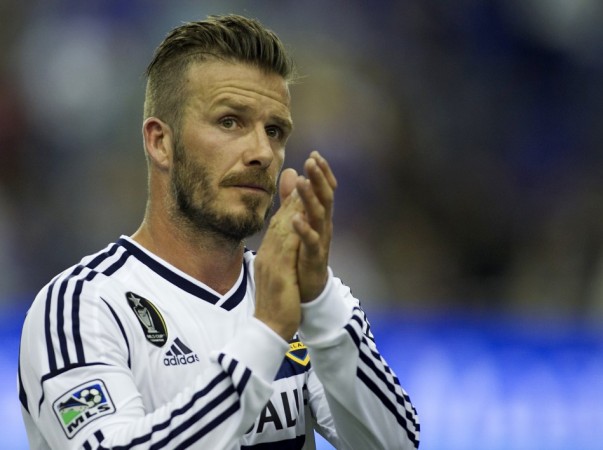 Most footballers of his age have hung up their boots but former England captain David Beckham is still giving youngsters a run for their money; in fact, he could become football's highest paid player if the latest reports are to be believed.
The 37-year-old former England captain has announced that he would leave the LA Galaxy in ten days' time, sparking off rumours that he could become the highest paid player with clubs reportedly willing to sign him for £12million.
It is reported that big clubs like Melbourne Hearts (Australia), Adelaide United (Australia), New York Cosmos (America), Shanghai Shenhua (China), Paris Saint-Germain (France), Botafogo (Brazil) and Kaizer Chiefs (South Africa) are eager to rope in David Beckham. Another report has it that Shanghai Shenhua is willing to pay more than £350,000 a week to the former England captain.
"It doesn't matter he isn't the greatest player any more. He makes clubs great in terms of sponsorship. A club could pay him £500,000 a week and it would still be worth it," The Sun quoted a source as saying. It added that Beckham could make least £12million from a new deal.
Cameroon striker Samuel Eto'o, 31, is currently the highest paid player with Russian club Anzhi Makhachkala paying him £345,000 a week.
David Beckham had earlier this signed a two-year deal with LA Galaxy but he has the option to leave the club after one year. He has announced his decision to quit the American club but has ruled out retirement.
"I still feel I have something left in me as a player," Beckham told reporters on Tuesday. "I still feel like I have one more challenge in me as a player, even at 37 years old. I feel I still can play at a high level. Where that will be yet, I haven't decided. I have some exciting opportunities on the table but right now my focus is on the final. Once that's out of the way, we have a tour to deal with and then it's Christmas, which we always spend in London. I will make a decision then."
(With Inputs from Reuters)