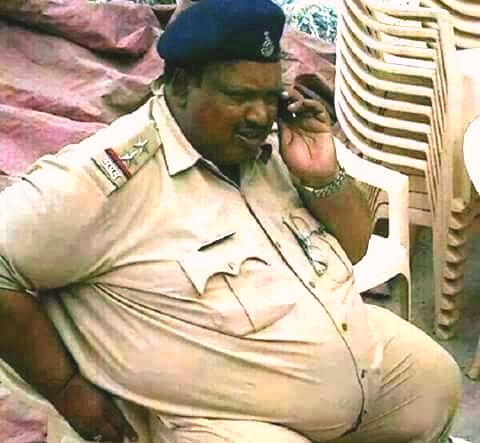 Daulatram Jogawat, a Madhya Pradesh Police inspector, who was body-shamed by columnist and novelist Shobhaa De on Twitter, will undergo treatment for obesity at Centre for Obesity and Digestive Surgery (CODS), a weight loss and weight management centre in Mumbai. The 58-year-old, who arrived in Mumbai on Sunday, will be treated by Dr Mufazzal Lakdawala, a bariatric surgeon and laparoscopy expert.
Several hospitals and clinics across the country had reached out to Jogawat after he returned to limelight after De tweeted a photo of the inspector with caption 'heavy police bandobast in Mumbai' after casting her vote during the BMC elections. Jogawat weighs 180 kg.
De mistook Jogawat for being a member of Mumbai Police, but he actually works with Madhya Pradesh Police. Jogawat has been a victim of social media trolls and banter over the past three years for being obese.
However, De was severely criticised by social media users and Mumbai Police for body-shaming Jogawat. Later, she posted a tweet saying that she did not intend to offend anyone and that if it was an 'undoctored' image, the inspector should 'consult a dietician.' The inspector, who is reportedly suffering from an insulin-related disorder, has won over 200 awards and will retire in 2019.
"MP Police was planning to take care of his treatment, but we were swarmed by offers from hospitals across the country. We got offers from VLCC, a clinic in Indore and bariatric surgeon Dr Mufazzal Lakdawala, among several others," a senior police officer told the Times of India.
Jogawat had previously said, "I became fat when my gall bladder was removed in 1993. She (Shobhaa De) posted my picture on her account, but will she pay for my treatment." He added that he was hurt after seeing the author's tweet body-shaming him and said that he had 'put on weight due to a hormonal disorder' following the operation in 1993, the Press Trust of India reported.
Jogawat further added that he would be overjoyed if he could lose all the weight and become fit again. In fact, a senior police official had also advised him to get operated at Sri Aurobindo Hospital in Indore free of cost.
Mumbai-based CODS' administrative director Flyod D' Souza had met Jogawat on February 25 and said that the inspector would have to get a thorough medical check-up and a few tests done at the obesity centre following which a 'medical expert would decide whether he should be administered medicine or operated upon.'