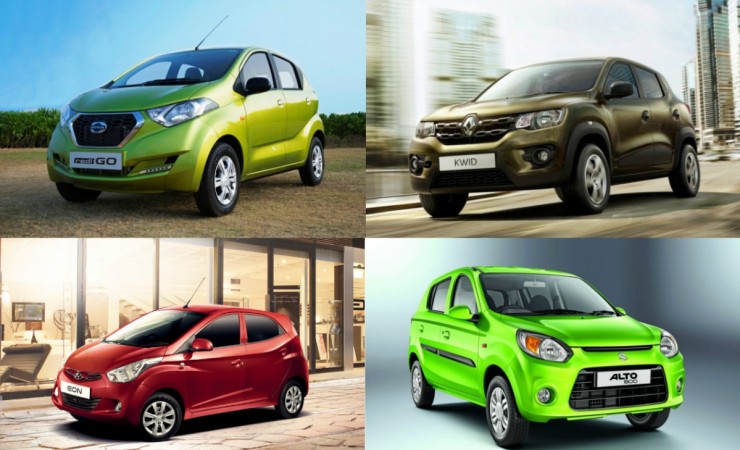 Prospective buyers in India have more choices in the burgeoning entry-level hatchback segment with the entry of the Datsun redi-Go. It comes with a tallboy stance, raised ground clearance and a fuel-efficient engine in a sleek package.
Barring the stance, Renault successfully has carried all the elements in the Kwid and made a significant impact in the segment. Sensing heat from the Kwid and the redi-Go, Maruti Suzuki recently gave the Alto 800 a bit of nip-and-tuck and worked on its fuel efficiency. Hyundai has recently updated the safety features of the Eon.
The question that arises is which one of the four — Datsun redi-Go, Renault Kwid, Maruti Suzuki Alto 800 or Hyundai Eon — is the best? Let's take a look at the detailed specifications of all four.
Engine specification
Fresh from the oven, the redi-Go is powered by a 799cc three-cylinder petrol motor, which is tuned to churn out 53bhp at 5,678rpm and a peak torque of 72Nm at 4,386rpm mated a five-speed manual gearbox. Renault Kwid is powered by the same engine with identical specifications. The engine is shared as part of the alliance between Renault and Nissan.
India's bestselling car, the Alto 800, is powered by an F8D 796cc three-cylinder petrol engine that generates an output of 47bhp at 6,000rpm and 69 Nm at 3,500rpm. The engine comes paired to five-speed manual transmission. On the other hand, Hyundai Eon is powered by a 814cc three-cylinder engine that develops 55bhp at 5,500rpm and 75Nm at 4,000rpm mated to five-speed manual transmission.
In terms of power, the Hyundai Eon has a slight edge over the redi-Go and the Kwid. The torque figure is also in favour of the Eon. The Eon, redi-Go and Kwid are competing neck-and-neck here while the Maruti Suzuki Alto 800 is underpowered.
Dimension
Datsun redi-Go measures 3,429 mm in length, 1,560 mm in width, and 1,541 mm in height, has a wheelbase of 2,348mm, and a segment-leading ground clearance of 185 mm. Renault Kwid measures 3,679mm in length, 1,579 mm in width and 1,478mm in height with a wheelbase of 2422mm. It has 180mm of ground clearance and comes with 13-inch wheels. That means the Datsun car is shorter in length and taller in height than Renault Kwid.
Maruti Suzuki Alto 800 measures 3,430mm in length, 1,490 mm in width and 1,475mm in height with a 2,360mm wheelbase. The hatchback has 160mm of ground clearance and runs on 12-inch wheels. Hyundai Eon measures 3,515mm in length, 1,500mm in width and 1,510mm in height with a wheelbase of 2,380mm. It has 170mm of ground clearance and runs on 13-inch wheels.
The redi-Go and Kwid siblings lead in length and width, which means better interior space over the other two cars. Being a tall boy, the redi-Go is the tallest vehicle in the lot and it makes ingress and egress easier even for a six-footer. The 185mm ground clearance of redi-Go is definitely a boon in Indian road conditions.
Fuel efficiency
Datsun redi-Go and Renault Kwid come with an ARAI-rated fuel efficiency of 25.17kmpl. Maruti Suzuki Alto 800 in the facelifted version improved fuel efficiency to 22.74kmpl while Hyundai Eon returns 21.1kmpl. Datsun redi-Go and Renault Kwid steer ahead of both cars with class-leading fuel efficiency.
Price
Datsun redi-Go
Renault Kwid
Maruti Suzuki Alto 800
Hyundai Eon
D
2.38 lakh
Std
2.62 lakh
Std
2.49 lakh
D-lite
3.28 lakh
A
2.82 lakh
RXE
2.98 lakh
LX
2.83 lakh
D-lite+
3.54 lakh
T
3.09 lakh
RXL
3.23 lakh
LXI
3.09 lakh
Era+
3.68 lakh
T(O)
3.19 lakh
RXT
3.57 lakh
VXI
3.28 lakh
Magna+
3.99 lakh
S
3.34 lakh
RXT (O)
3.67 lakh
-
-
Sportz
4.28 lakh